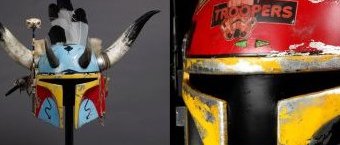 Starting August 23, Fett fans with deep pockets and creative sights can jump over to Ebay to benefit the Make-A-Wish Foundation. Twenty one-of-a-kind helmets will be up for grabs, and will be shown to the ticketed public at Celebration VI.
The Dented Helmet and the 501st Legion worked together to make the effort come together, which features 40 custom Fett- and Trooper-inspired helmets in all.
One is made by designer-turned-director Joe Johnston, creator of the original Boba Fett helmet. Another was made by Sandy Dhuyvetter, the artist who painted three of the costumes for Empire and the helmet used in Jedi, and who has now made four helmets. Most were made over the course of ten months, except the Sideshow Collectibles piece which was made in just two.
Twenty Boba Fett helmets
Check out the Facebook Page for all angles of photos of the work.
If you'll be attending Celebration VI, you can see all of these in person.