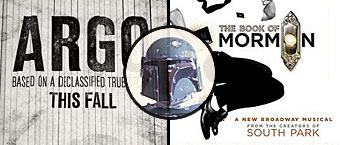 Ben Affleck's new film, Argo, as well as the "South Park" team's first Broadway Musical, The Book of Mormon, feature Boba Fett in the shot and on the stage, respectively.
Tipped off on Twitter by @Red5Aggie, Argo has "a vintage 12" Boba Fett figure on the screen for a long time at the end along with many other figures."
As for The Book of Mormon, Boba Fett is mentioned in the songs "Making Things Up Again" and "Joseph Smith American Moses."
For more Fett references, including Die Hard 4 and Fanboys, check out our Fettipedia wiki.