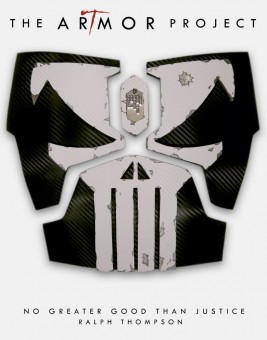 The Mandalorian ArTmor Project is a charity art project inspired by the As You Wish Helmet Project and The Vader Project benefiting Toys for Tots.
The project is sponsored by the "Star Wars in Character" podcast and is orchestrated by its cast members:  Matt Hunsworth, Dave Fox, Chris Irons, and Tim Spaulding. Not only did the BFFC's Lucas McCoy have a chance to join the project as a contributing artist, but he was also honored to sit down with Hunsworth to chat briefly about The ArTmor Project before the auction officially begins on Sunday, November 23, at 6pm EST.
BFFC: Matt we know you're a very busy man right now with the auction only days away, please tell us a bit about yourself and how this project came to be.

Matt Hunsworth: I'm Matt from the NeoZAZ.com podcast network and co-host of "The Star Wars In Character" podcast. I'm the acting curator of the ArTmor Project, and [also a] contributing artist ("Flyers Fett", "SWIC Episode 100", and "Dark Hunter" pieces).  Our podcast holds an annual Star Wars toy drive for the Philadelphia area Toys for Tots – we raise as much money as we can, then wisely purchase as many Star Wars toys we can, and deliver them to one of the Philadelphia Toys for Tots events. Each year we try to find a new way to raise more funds and deliver more toys. We were all been inspired by the "Vader Project" and the "As You Wish Project" but didn't want to directly copy their idea. So while looking through iconic Star Wars character costumes, the idea of designing and re-imagining Boba and Jango Fett's iconic Mandalorian Armor seemed like a great way to help raise funds for this year's toy drive. We originally planned for just the four of us from the podcast to be the participating artists. We soon put the word out to see if anyone else would be interested in something like this and were overwhelmed with the response we received and now are proud to be offering over 40 pieces in our main event auction.

BFFC: Toys for Tots must be a very special cause for you.

MH: All of us involved with the show and this project grew up with Star Wars toys, and I really believe that playing them, imagining new adventures and whatnot, helped develop our creativity and played a big part in what we do today. I think those kind of toys, toys that make you use and develop your imagination, are important for every child to have and grow up with. That's why we work so hard in doing whatever we can to help those kind of toys get to kids that might not otherwise have the opportunity to play, have fun, and use their imaginations the way we were fortunate enough to have done in our childhood.

BFFC: What have been some of your favorite entries so far?

MH: My personal favorite so far, is probably "Starry Endor" by Carly Schmidt. I've always loved Vincent van Gogh's "Starry Night", and this Star Wars twist on the that famous work is superb!

BFFC: Nice. We're big fans of that one as well. When we first saw it we thought it would be called "Death Starry Night"! Our favorite has got to be "The Fett with No Name". Something about a Mandalorian armor version of the costumes from "The Good, the Bad, and the Ugly" is mesmerizing! Those entries and more will be auctioned off this weekend, but I've seen some for sale already. How is the auction/sale set up and how is it going so far?

MH: The auction is a live auction taking place online at the TheBigToyAuction.com. It's set up so that if you can't make the live bidding, you can enter a maximum proxy bid any time before the auction and your proxy bid will increase during the live bidding until bidding stops, or your maximum bid is passed. So far, in pre-bids alone, we've far exceed last year's fundraiser and we are completely overwhelmed by not only these generous bids, but by the generosity of all the participating artists that contributed to making this event far and away more than anything we ever imagined!

BFFC: We are thrilled to be a part of it in such good company. Some if them have been pretty amazing and there are still more coming in!

MH: Oh yes, every stop at the mailbox has been exciting these past couple of weeks.

BFFC: Thank you again so much for asking us to be involved. We hope everyone likes McCoy's Back to the Future-themed "ManDeLorean" entry!

MH: We all want to make sure we've expressed our gratitude to everyone involved – artists, bloggers, podcasts, anyone that's spread the word, pre-bidders, and the auction attendees – everyone! Things have been crazy these past couple of weeks and we've tried to be sure to thank every person that has helped us. When the dust clears and the toys are delivered, we'll be sure to go through and thank everyone again. This of course includes the BFFC!
You can see all of the project submissions via The ArTmor Project's Facebook gallery or at the TheBigToyAuction.com auction site.
Boba Fett Fan Club contributing editor Lucas McCoy is a cosplayer, photographer, and filmmaker, and has been a member of the BFFC since 1997. Follow him on Facebook.