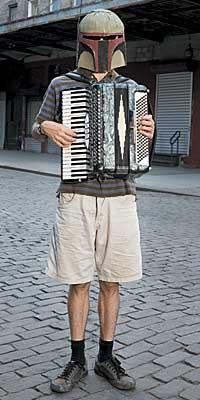 Recently featured in Time Out New York's Public Eye feature was Nathan Stodola, aka Renegade Accordion. Nathan, 26, was interviewed by Time Out and posed in his picture with his accordion and his Boba Fett helmet. Nathan's fandom of Star Wars was clearly expressed in the interview; it's always good to see the Fett Fans representing our favorite bounty hunter.
Check out the whole interview on Time Out New York's site.
Update: You can also fan Renegade Accordion on Facebook and check out the recordings, as well as other photos people have taken of him.