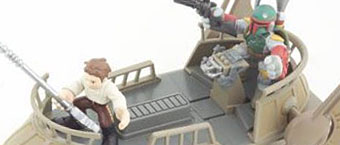 As all Star Wars fan should know by now, there is an upcoming Clone Wars animated movie coming to theaters August 15. Along with the TV show which will be released afterwards, a new line of figures has come out today, July 26. Among the animated Clone Wars figures are a line of 'Legacy Collection' figures that are from the entire Star Wars saga and Expanded Universe. Thankfully, Boba Fett was not forgotten.
First up is a Battle at the Sarlacc playset. This playset is centered around the scene at the Sarlacc pit in Return of the Jedi and comes with a Boba Fett figure to, unfortunately, re-enact his 'death' (We all know he escapes, no one deny it or suffer the wrath of the almighty Fett Fan).
Next is a Boba Fett 'Galactic Heroes' figure that comes with another Sarlacc set.
They have also re-released the Fett Legacy pack which now has the Boba figure with the correct decals painted on with Jango and Mandalore the Indomidable in new packaging that matches the white and blue packaging of the new Clone Wars figures.
There are also a number of Mandalorian figures as well as a certain Boba Fett impersonator.