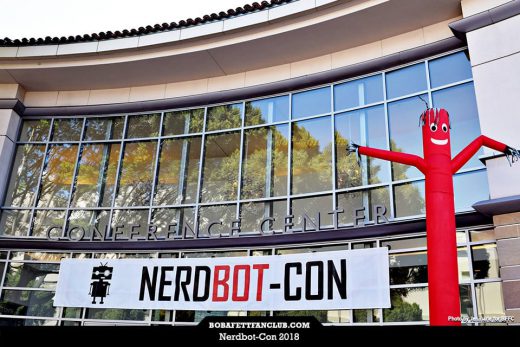 Nerdbot-Con hosted their third annual convention on Saturday, September 22nd at the Pasadena Convention Center in California. Fans young and old gathered together to celebrate their favorite fandoms by showing up to the event in their eye-catching cosplays while shopping the different vendors, discovering new artists and enjoying live music. You can't have geeky without Star Wars so I made it my personal goal to hunt down Mandalorian themed merchandise and the best cosplayers I could find. Star Wars didn't have the biggest presence at this convention but what I did find won't disappoint!
The Manda'galaar Clan was there representing the Los Angeles chapter of the international Mandalorian Mercs Costume Club. Their booth consisted of various helmets and weapons as well as a fun area for photo opportunities. These guys and gals were ready to take on some bounties and were there to inspire and encourage others join them in their mission. If you're LA based and interested in attending the Manda'galaar Clan events, check out their build your own Mandalorian armor parties to find out how to become an official member!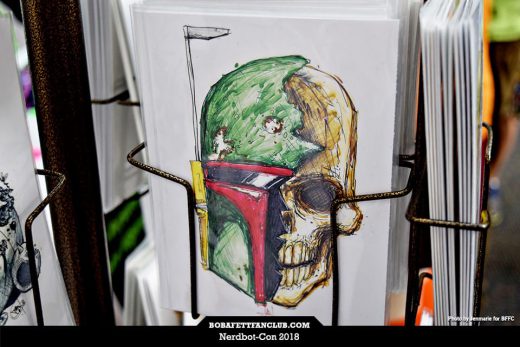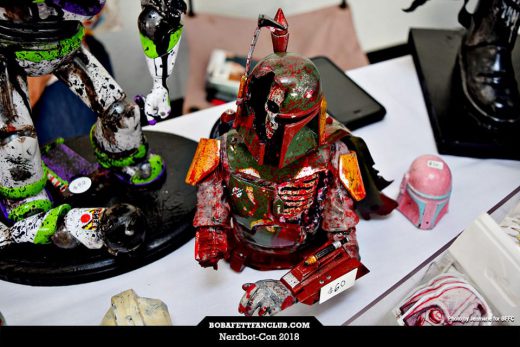 It's not very often that I see merchandise that consists of horror and Star Wars. As I walked the floors of the convention these highly detailed figures and art prints by Blood and Teeth caught my eye and I had to stop and observe them. Mr. Dust and DeathDealerCa are the master minds behind these creations and seemed to have one of the most popular booths at the event. If you're interested in their style or think something from this line might make a good gift be sure to check out their Facebook page to see what convention they'll be traveling to next!
When you spot a female Boba Fett and Stormtrooper Deadpool casually roaming around, you obviously stop them and ask to take a photo! They were definitely one of the coolest husband and wife duos at the convention. Follow Sasha (account no longer active) and Miguel on Instagram for even more photos of their incredible work as cosplayers!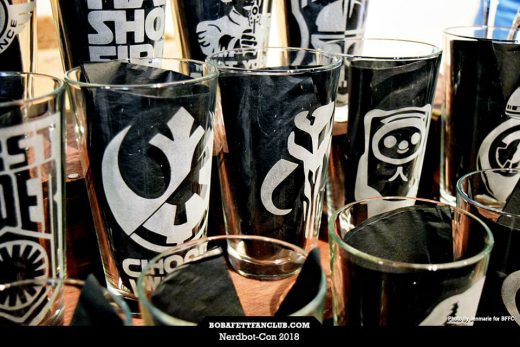 When the armor is off and you still want to give off those Mandalorian vibes, etched glassware by Mombie Zombie might be the next best thing. Christina is the owner of this small business and also specializes in other geeky accessories. You can browse all of her creations on her Instagram page (no longer available).
If you've never been to Nerdbot-Con I would suggest attending next year as it's always a fun experience to explore new geek-centered events!