In the convention and cosplay community, there are many different versions of Boba Fett costumes. From the Empire Strikes Back and Return of The Jedi film versions, to the Holiday Special and comic book Boba. Other fans, like Simon MacDonald, are even more creative. Recently the BFFC was able to track Simon down thanks to the wonders of the internet, and ask the creator of the world's first LEGO Boba Fett costume a few pressing questions.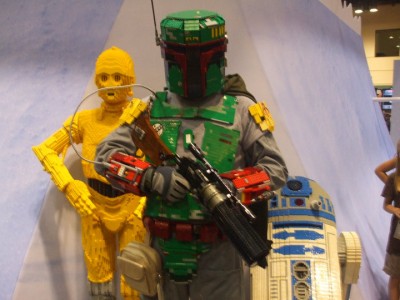 Simon! I have seen you around at various conventions and events for years now, but it's great to finally talk with you.

Thanks for having me! It's swell to be interviewed.

So Simon, tell us how the idea of making a costume out of LEGOs begin?

In 2007, I offered to do a LEGO Star Wars Panel at Dragon*Con for Cathy Bowden. I planned to bring up some of my own works and connected with someone who makes custom figures. As I was prepping for [the panel], I realized I wanted something big as a reveal. So, I tried to make a lifesize Han's sensor from ESB when he looked for Luke. I just didn't have enough white brick. So, I jumped ship on that and made Vader's Lightsaber. Then I made his belt boxes. Then, the rest of Vader. The helmet was well over 10 lbs.

The next year I wanted something easier to wear and more recognizable, [so] I went with Boba Fett.

Since first wearing the costume, have you seen any other LEGO costumes at events?

Not at events. Although, Ben Caulkins has made a LEGO Master Chief costume from Halo, and has said he was inspired by my work. I'm in an Adult LEGO group and a few of the guys has expressed interest in making some of their own [including] Dash Rendar and a Ghostbusters Proton Pack.

If I recall correctly, at Star Wars Celebration V in Orlando, you were working with LEGO at their booth. How did that come to be?

Through my local LUG (LEGO User Group) we had the opportunity to display our works. The organizers of CV also gave The LEGO Group (TLG) certain perks, which trickled down to us. I managed to be in the 19th row for "The Event" with Stewart and Lucas.

Do you do any other costuming? If so, what groups do you belong to?

I've been making costumes for acting a long time but most of my pride comes from my blending of costumes and LEGO.

What drew you to a character like Boba Fett?

His individual interpretation. In the films he was ambiguous and menacing which gives him an air of myth.

What is your favorite Star Wars movie and why?

The Empire Strikes Back. The pacing and even handedness of the relationships. Oh yeah and it's awesome.

Does anyone else in your family enjoy costuming along with you at events?

I am so happy to say "yes". My wife has Mirax Terrik and Bariss Offee costumes, and a few other non-SW related ones. Also, my three-year-old daughter dressed as Cindel Towanni for CV and Leia for Halloween last year.


What did Daniel Logan or Jeremy Bulloch have to say upon seeing your costume?

Daniel Logan has not seen my costume yet, but when I debuted it at Dragon*Con 2008 for the Star Wars costume contest Jeremy was one of the judges. He said it was the most innovative and unique Boba Fett costume he had ever seen. In fact, on the last day of D*C he just walked up behind me with his wife and said, "I have to get my photo with you". My inner geek was spasmodic.

What future plans are there for LEGO Boba Fett?

There is an art show in my area that is doing a presentation of LEGO art from October 31 to December 2. My LUG is submitting some works and if they have no problem with licensed images, I'm getting a mannequin and submitting it. Other than that, I regret to inform you that I'm %90 sure that I'm retiring LEGO Boba Fett. Just like I retired LEGO Vader, Boba will be retired in pieces. I've had a few offers for purchase but I think it's more emotionally valuable for presentations.

I have PLENTY more of ideas for more LEGO costumes and feel like my costume has run its course.

Well, it was surely one in a million, and we all look forward to see what you come up with next! Simon, thanks so much for talking with us here at the BFFC.

Thanks for having me. It was a pleasure sharing my obsession with you.
For more fun ways to get involved with the LEGO community, visit their facebook page.