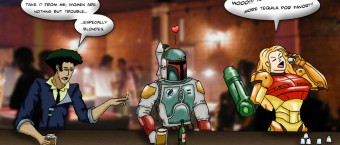 Right on the top of IO9's Daily 10 list, "10 Coolest Bounty Hunters in the Galaxy," Boba Fett beats Blade Runner, Metroid and Brisco County:
Duh. We couldn't really put anybody else at the top of this list, could we? From a brief animated appearance in the Star Wars Holiday Special to his small but crucial role in Empire Strikes Back, Boba Fett captured the imagination of fans everywhere.
Steve Spears' Stuck In the 80's blog also comments on the top 10, starting with the headline "'Bounty hunters? We don't need their scum' Yes, we did in '80s."
"Happy Hour at the Bounty Bar" artwork by Robert L. Lynch.