Upcoming Bounty is a series of editorial posts about newly released and/or newly announced Boba Fett collectibles, giving you the lowdown along with a pro collector opinion on what's what.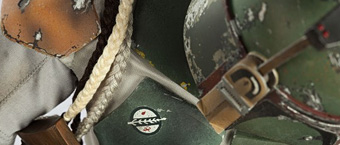 Another big upcoming piece is the Boba Fett Premium Format (PF) figure from Sideshow Collectibles. Any by big I'm talking both size and price tag. This ¼ scale figure and base come in measuring 25.5″ tall and will leave a $439.99 hole in your wallet. Scheduled for a December '15 release a pre-order has a non-refundable deposit of $44.00.
Sideshow, having already released a ROTJ Premium Format Boba, went ESB this time. With only the Sideshow publicity shots to go by it does look like they've made some improvements since their last PF Boba. In fact Sideshow has had some trouble with their Fett's in general, but that's a separate blog post. By my eye, the paint scheme and weathering on both the armor and flightsuit look more accurate than the previous. (But I'll leave it to the folks at The Dented Helmet to offer their assessment.)
If nothing else it looks more real, the previous one still looks plastic. Like the previous PF figure the only articulation available here seems to be the neck/head and range finder. The base is reminiscent of Cloud City, and is angled to help create more of an action pose than the previous.
And it's a great pose! In fact it looks to be inspired by a piece of artwork that I've seen floating around for a while. Most non-articulated statues of Boba have him just standing around, and the Attakus one just looks awkward to me.
The biggest downside to this piece is timing as it is scheduled to come out in the wake of the Hot Toys ¼ scale Fett at a slightly higher price of $469.99.
Pros:
Great pose!
¼ scale
ESB Paint Scheme
If they can stay on schedule you can put it on your Christmas list
Cons:
Price
Sideshow's history with Fett
Bad Product timing
Minimal articulation
My take:
Sideshow is counting their lucky stars and thanking their Non Refundable Deposit policy that they got this out before Hot Toys dropped theirs. However it's an ESB Fett, and I really want Sideshow to put out another winner (LOVED the Mythos Fett) so I'm sticking with it. Besides I already put down the deposit. Given the price tag and the direct competition from Hot Toys this might stay in stock a bit longer than previously anticipated. I would guess at least until after Christmas '15 so you can throw some Santa money at it if you already shelled out for the Hot Toys.