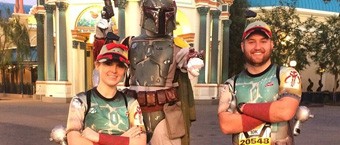 [Updated 1/18 9:20pm PST: Now includes some photo picks from Sunday's race!]
Star Wars fans are running through Disneyland for their inaugural kids, 5K, 10K, and half-marathon races. Events began January 15 and continue through tomorrow, January 18.
Many dressed up in Boba Fett apparel and many more got to see a Boba Fett cosplayer along the way. (If you're curious about the Fett-styled fitness shirt that many of these runners are wearing, we have more information about it and where to buy it.)
Here are some of the photos we enjoyed — via our Instagram, Tumblr, and Twitter accounts — that were shared on social media. runDisney, who puts on events like this, suggested some coordinated hashtags (#starwars5k, #starwars10k, #starwarshalf, and #rebelchallenge) which many people used.
Have any more to add? Give a shout out in the comments!
10k complete! Half marathon tomorrow! #starwarshalf #starwarsrace #bobafett http://t.co/5E78FAHzFH pic.twitter.com/HA1fb589FC

— Pat Flynn (@PatFlynn) January 17, 2015
Support your local bounty hunters. #StarWars10K pic.twitter.com/0X6la6P0wW

— Star Wars (@starwars) January 17, 2015