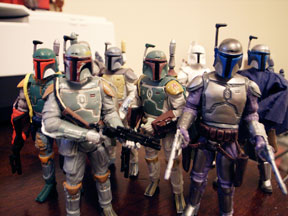 Fett fans are overjoyed at the recent flood of Boba and Jango Fett figures from Hasbro that have shown up in stores world-wide. All the variations of Fett have appeared: the Ralph McQuarrie concept figure to the Sarlacc Escape figure and even the Holiday Special appearance, Boba Fett has become one of the most produced Star Wars figure from Hasbro. This, of course, comes with the message: "All Sold Separately".
Fett fan David Horvath recently put up a post on his blog, UGLYBLOG, about discovering the whole Fett family in Target and buying them all. [UPDATE: Link no longer active.]
The recent surplus of Boba Fett figures, statues, and collectibles and only re-enforced the statement, "And what do you know, fan's wallets come in 3 versions. Light, lighter, and empty."