In collaboration with a network of other Star Wars fan sites — Yakface, Jedi News, Jedi Temple Archives, Star Wars Action News, Idle Hands, Teekay-421, and MintInBox.net — here is your one-stop download for being ready for "Force Friday" on September 4th:
This PDF checklist came about since there isn't one. Despite all the buzz, there wasn't a clear cross-brand list to even know what's available this Friday. Instead of dealing with that secrecy, these Star Wars fan sites worked tirelessly to compile a document for you, the fan.
Note that the checklist is focused around action figures and related collectibles. It excludes books and apparel. For any of those involving Boba Fett, we'll add those separately below.
"Force Friday" begins at the minute Thursday night becomes Friday morning: midnight. As for Boba Fett merch, here are the highlights to start finding:
On a lighter (for the pocketbook) side, Target has a #ShareTheForce campaign, which has already started. Their website features Boba Fett — although his helmet is backwards. You can upload your memory of Boba Fett to be tagged in their 3D database.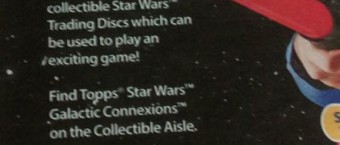 Walmart also ran an ad that shows Boba Fett on a "collectible Star Wars Trading Discs which can be used for an exciting game." These are called Topps Star Wars Galactic Connexions, which are expected to be found in their toy aisle this Force Friday. Here's a picture on the right, thanks to @McHale262.