"Star Wars: The New Republic Anthology" is a new Boba Fett fan film, which clocks in at just over one minute. It's set 30 years after Boba Fett fell into the Sarlacc, which is a long while but conceivable for this armor-clad bounty hunter to rough it. With the "Expanded Universe" / "Legends" all wiped clean, it's up-in-the-air right now if Boba Fett is officially alive or dead.
Fan films about Boba Fett are nothing new — we've logged over 75 — but this one stands out. It has great production value, timing, and subject matter. Those are some of the reasons why this film has been abuzz online as soon as it was released yesterday morning.
We caught up with Eric Demeusy for an interview: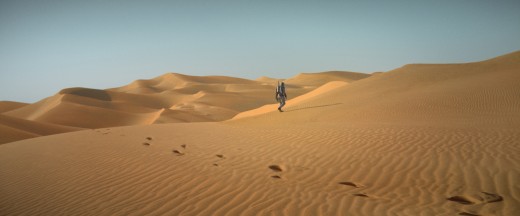 Tell us a little bit about yourself. What drew you to do this specific project? What were some of your favorite and/or important parts of the whole process?
I've loved Star Wars since I was in middle-school. The first scene I remember seeing was Luke and Leia swinging across the Death Star chasm in "A New Hope." I remember thinking "so this is Star Wars?". It just had a certain feeling to it that no other movie had and something about that is what I fell in love with. I became a huge fan from then on. George Lucas quickly became my favorite director and I tried to take after him in anyway I could. When I was a Junior in High School I made a twenty minute Star Wars fan film, learning how to do the lightsaber effect frame-by-frame in photoshop. The next year I did another one for my senior project and landed an internship at the local ABC news station. Star Wars is something I always admire as both a filmmaker and a fan. Something that sets Star Wars apart for me from other sci-fi worlds is the design. I'm not typically a big fan of science fiction but Star Wars doesn't feel like a sci-fi, it feels like an action adventure film set in space. To me a lot of that is the design, the ships, the creatures,and the characters. I always loved the look of the Storm Troopers and Boba Fett. In my short film '3113' I think it's apparent that Boba Fett was a big influence on the android design. I just think he's the coolest masked, suit-wearing character ever. Star Wars also became for me the only movie that has Boba Fett.
When the news came out that Lucasfilm and Disney were going to be doing Anthology films I was hoping they would do one about Boba Fett. I read confirmation that one of the Anthology films was in fact a Boba Fett film, but that it was a origin film. I realized quickly that a lot of fans and people I talked to didn't want a prequel. They had enough of that in the Saga prequels. One of the reasons Boba is such an interesting character is because of the mystery that surrounds him. They wanted to see Boba Fett as he was in the original trilogy, in his prime. Kicking butt, firing his gun, and using his jet pack! Something you didn't get to see much of, but wanted to. Not how he got there. I didn't want to see a Boba Fett biopic.
When we sat down to think of what would be the best version of a Boba Fett movie, we realized it was the story that needed to be told… Boba Fett survives the Sarlacc pit. He should be featured in a movie that isn't just a "Boba Fett movie", but was set against something much bigger in the Star Wars universe, the rise of the New Republic. An event that Boba had a big role in, one in which he is the main character. Within that we would see Boba's story continue, we would see him in action, Boba doing what he does best, and we would see an interesting change in his character. One of Boba's biggest flaws is his lack of integrity, and in this story he starts to realize that. So I decided to go out and make this teaser in hopes that one day people would see and hear this story of Boba Fett's most vital mission, a pivotal point in his life and the galaxy.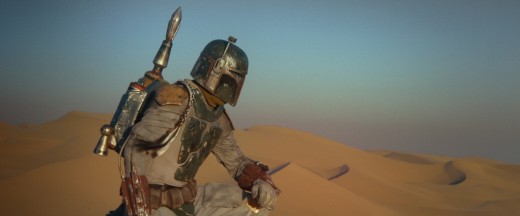 We noticed it's the "deluxe" store-bought Rubies costume (don't worry — we love every kind of Boba Fett costume!), yet re-painted to look amazing. How did you come up with the plan to re-invigorate it and add some touch-ups, like the boots with their spikes?
Well I knew that if I was going to do this the costume needed to be as close to the screen used version of "Return of the Jedi" as possible, on a budget of course, otherwise no one would believe it's actually Boba Fett. I started searching around and originally I was going to try and get someone who had already made a suit to play Boba. Logistically though for our shoot and the location of these people it wasn't possible. So I was looking for other options and found that there were people who made really great versions of the suit but they were pretty costly and time consuming to make. The best option I had and really the only way I could afford time and budget wise was to use the deluxe suit and modify it.
We went out to the location and did some screen tests of the suit to see what would and wouldn't hold up on camera. Pretty much the whole thing needed work. I found a lot of really good reference for every bit of detail the suit had in the screen used version and stuck as close as possible to that with some leverage on the wear and tear. I had never airbrushed before in my life so there was a learning curve as I did it. I tried to get Daz from Bobamaker on board but he was booked up to February. If the Boba movie does move forward, he should without a doubt be the guy making the suit.
The shoes, we went with custom made boots from CA Boots to make sure they were screen accurate. We took those and weathered the heck out of them. Scrubbed them with a pumice stone and airbrushed some stain, dirt and grime into them. The toe spikes were made by Jason Mitcheltree, who was the DP and actually wore the Boba suit. We used real metal from the strip and some wooden dowels for the spikes, painted them silver and weathered them.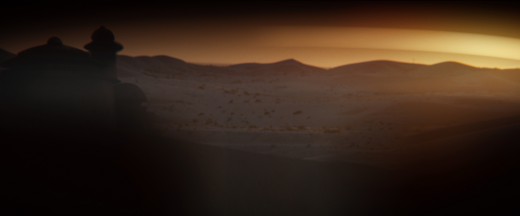 No Jabba's Sail Barge wreckage and no "Sarlacc goo," noted some eagle-eyed fans, which is all plausible — this is science fiction after all — but what are your thoughts on the backstory in this world you created? Were there other deliberate choices made?
Yeah these are all things I had to think very carefully about. I watched all six films at least three times EACH within a month plus all the behind the scenes over and over. I was studying like crazy the whole time. I would imagine that Jabba's Barge would have been scrapped by Jawa's or some other scavengers. The Sarlacc pit was a pretty well known place and I think word of mouth would have gotten out about what happened to Jabba, so scavengers would have had a field day. Any of the smaller bits of remains would have been covered. Actually a fun fact about the imperial dunes where we shot is that the dunes move about a foot each year. Tracks from the day before get covered by the wind. I would imagine it to be very similar if not more so in the Dune Sea on Tatooine.
As far as the "goo", this was also discussed before we shoot. I imagined Boba would have been walking through the desert for at least a day, maybe two to get back to where Jabba's palace was, and it is nothing but sun out there. The goo would have dried up by then. If we had shown him crawling out of the pit it would make since to have some saliva on him.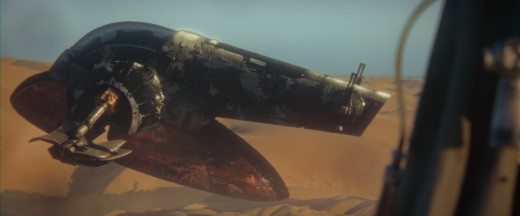 Your visual effects are top-rate. As you noted on Vimeo, it's all Cinema 4D. In the "making of" at ericdemeusy.com/starwars, it looks like you re-skinned a 3D model, if not making a new Slave I model. Specific to Fett and his ship, what did you start with and what did you change?
Thank you! Yeah I was going back and forth on whether or not I'd do the ship practically or CG. I really wanted to do it practically but the biggest model I could find was only about a foot in length and that wasn't big enough to get the right amount of detail in. So I went the CG route because I know it well. I found a halfway decent model on scifi3d.com, the original model was done by A Wiro. The model was a good starting point. It had low res texture applied to it so it was already UV'd but needed to be retextured. I went through all of the textures and repainted them at 5K and built layers and layers that were stacked to give it a more realistic look with chipped paint, scratches, smudges, dents and all of that. That process took me quite some time to dial in the detail and make it feel like part of the scene. That shot took me about 5 days to render on my home computer. It was later composited by Evan Langley who did the compositing on the piece.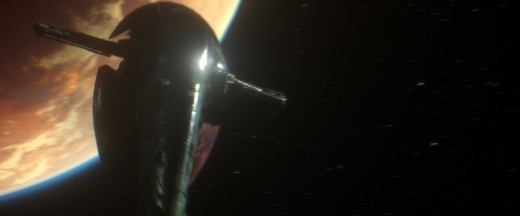 To this day, a "story" film about Boba Fett is still officially unconfirmed, but here you got the web talking about it again today. On the flip side, the original actor who played Boba Fett, Jeremy Bulloch, "liked" this film on Facebook, which is a great helmet nod among Boba Fett fans. Where else do you hope this project will go or take you?
Wow! That is so cool that the real Boba Fett saw this! That's really cool to think about. I'm really glad people are talking about Boba, I think a lot of fans really want the Anthology film but how it's done is thin ice. I have a Boba Fett movie burning to be told, I would love to tell that story and my hope is to see that version fully realized. When I thought about a Boba Fett movie I had to really think about what it would be. What would it be about? How do you have a main character who is so mysterious without taking that away? Do you ever see him with his helmet off? What does he do after the Sarlacc pit and is it significant to the Star Wars universe? It's a very tricky character if you just go at it from a surface level, or if you try to go too far into his past. I'm a big fan of Boba Fett and this is the movie I want to see. I have done a lot of reading as to what fans say about their wants as well and I think the story the Jason and I have come up with is perfect, I seriously love it. Hopefully we can influence the Anthology film in one way or another.
###
WATCH THE FAN FILM