"Pre-Pro #2" Boba Fett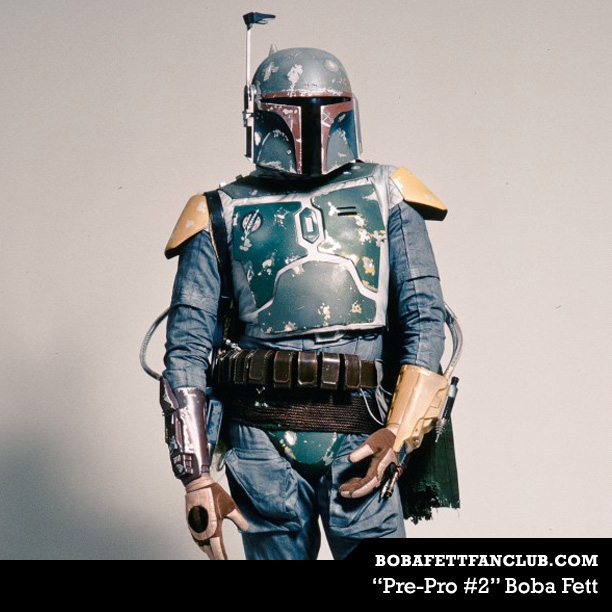 Mid 1978
"Pre-Pro #2" (PP2) Boba Fett (Mid 1978)

This armor was later used for "The Empire Strikes Back" and a Kenner photo shoot, which is why the vintage action figure has red and yellow gauntlets.

It's believed that Mario Maala painted the PP2 helmet/armor and Sandy Dhuyvetter worked on the costume.

The original prop was stolen and is in a private collection.
Upper Body
| | |
| --- | --- |
| | Used for publicity photos, but not for any film |
| | Left and right "ears" are nearly the same color, unlike PP3 |

| | |
| --- | --- |
| | Front right armor plate is a different green than the front left side |
| | Back armor is scratched/chipped |

| | |
| --- | --- |
| | Sling gun (made from a Kaiser camera rifle grip and shoulder stock, Rotring Sec-O-Mat arrow, and hand telescope) |

| | |
| --- | --- |
| | Teal, yellow, red and white, like the ROTJ |

| | |
| --- | --- |
| | Right gauntlet is red |
| | Left gauntlet is yellow, which includes a flamethrower element and "laser" |
| | Gauntlet hose goes into the arm cuffs over the bicep |

| | |
| --- | --- |
| | Unique skull variant on the left shoulder |

| | |
| --- | --- |
| | No symbol on the right shoulder |

| | |
| --- | --- |
| | Different shoulder symbol with some more scratches and some paint splatter on the top right |

| | |
| --- | --- |
| | Different chest symbol |

| | |
| --- | --- |
| | Right brown glove has a circle with a middle rectangle dividing it into three sections |

| | |
| --- | --- |
| | Left brown glove has a circle with the middle divided by two triangle oriented like a bowtie |




Left shoulder has an olive green cape, originally a vintage Vietnam War era U.S. Army tent

Source: Ord Mantell (TDH)
Lower Body
| | |
| --- | --- |
| | Four shin tools (Sonic Beam Weapon, Anti-Security Blade, Survival Knife, and Jet Pack Adjustment Tool) |
Variant Boba Fett Costumes