"Jedi" Boba Fett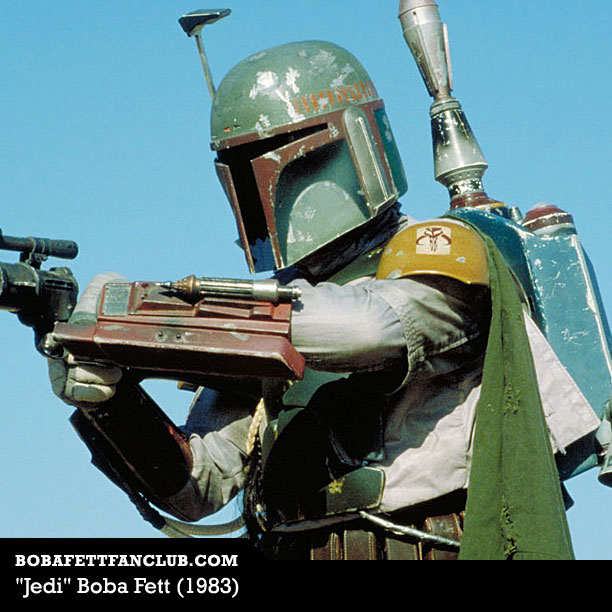 1983
Compared to "Empire," the more dirty and colorful version.

It's known that Sandy Dhuyvetter was involved with the hero helmet.

One of the stunt jetpacks is also known to have a lightsaber slash in the back, which is from unused footage that never made it into the film.

There are also two stunt Boba Fett helmets, which have simpler paint jobs.

The helmets are kept at Lucasfilm Archives.
Upper Body



Darker green / medium green helmet

Source: 501st Legion CRL

Mandibles and head band are red / burgundy and keyhole slots on the back of the helmet with a visible appearance of a circuit board.

Source: 501st Legion CRL

Rangefinder assembly on the right side and rangefinder stalk appears metallic with two red "lights" on top

Source: 501st Legion CRL

Both weathered ears are metallic silver and right ear has a "micro switch"

Source: 501st Legion CRL

| | |
| --- | --- |
| | Extra dent on the right chest armor, not seen on the stunt armor and the ROTJ:SE armor |

| | |
| --- | --- |
| | EE-3 has much darker with grooves on the barrel and no strap, unlike the "Empire Strikes Back" |

| | |
| --- | --- |
| | Scope is mounted more toward the back |

| | |
| --- | --- |
| | Unlike "Empire" Boba Fett, no sidearm blaster |




Jetpack is "medium blue, silver, white, black, yellow-orange, and red"

Source: 501st CRL

| | |
| --- | --- |
| | Jetpack beacon light is not illuminated |

| | |
| --- | --- |
| | There were three used in filming: the "hero" for close-ups, the pyrotechnic, and the stunt for when the stuntmen (yes, plural) fall into the Sarlacc |

| | |
| --- | --- |
| | Gauntlets are dark red / burgundy |

| | |
| --- | --- |
| | Left gauntlet has a keypad (made from a 1977 Casio MQ-1 calculator) and the rocket |

| | |
| --- | --- |
| | Left shoulder armor has the Mandalorian skull symbol |

| | |
| --- | --- |
| | Right shoulder has no symbol |

| | |
| --- | --- |
| | Shoulder icon has separated "tusks" |

| | |
| --- | --- |
| | Unique chest symbol with clean detailing |

| | |
| --- | --- |
| | Pouches are attached to the ammo belt, not the flight suit |

| | |
| --- | --- |
| | Light grey and white double layered cotton gloves with hand-stitched, quilted patchwork |

Right hand padding is longer than the left

Source: Bobamaker

Fastened on the underside with a white button

Source: Bobamaker

| | |
| --- | --- |
| | Olive green cape (made from a U.S. military half shelter tent) off his left shoulder |




Wookiee scalps are "blonde, brown and black braided loops of hair hung from the right shoulder"

Source: 501st CRL
Lower Body
| | |
| --- | --- |
| | Ammo belt has 8 beige pouches with beige stitching and no separation nor snap closures |

| | |
| --- | --- |
| | Right pocket is beige/brown and left pocket is blue/grey |

| | |
| --- | --- |
| | Golden yellow knee armor with two dart launchers on the left knee and one on the right with a second metal detail above it (unlike ESB) |




Two shin tools (Sonic Beam Weapon, Anti-Security Blade)

Source: RafalFett

| | |
| --- | --- |
| | Same boots but different spats than ESB |
Variant Boba Fett Costumes