"Prototype" Boba Fett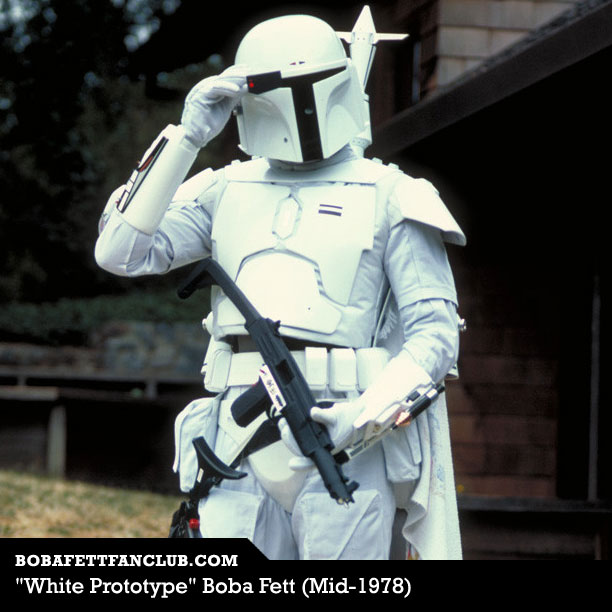 Mid 1978
This "supertrooper" costume was worn by Duwayne Dunham in the 1978 screen test with Ben Burtt. The demo also involved George Lucas looking over the costume.

The red/blue arrows on the helmet above the visor are often (but not always) on Prototype Armor Boba Fett collectibles.

It's believed that six helmets in this style were originally made.

This costume is similar but not the same as his "concept" armor.
Upper Body
| | |
| --- | --- |
| | All white |
| | Red and blue triangles above the visor, different than how they appear in the Original Trilogy |
| | This helmet was painted over to create the PP1 |

| | |
| --- | --- |
| | All white, in the shape of his Original Trilogy on-screen armor |

| | |
| --- | --- |
| | Small blaster with cradle (made from a Kaiser camera rifle grip and hand telescope) hanging from belt |

| | |
| --- | --- |
| | All white |

| | |
| --- | --- |
| | Right gauntlet is grey and white |
| | Left gauntlet is grey and white except for a copper tipped missile |

| | |
| --- | --- |
| | All white and longer, falling with the shoulder curve |

| | |
| --- | --- |
| | Hanging from his left shoulder is a white "Star Wars" beach towel, used as placeholder during the screen test |
Variant Boba Fett Costumes