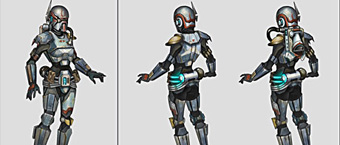 In a splashy trailer for video game "Star Wars: The Old Republic" released at E3 today — which apparently includes no gameplay graphics — a Fett-like babe is introduced. She dons a helmet, flies a jetpack, uses a flamethrower, and works for the bad guys.
[youtube]http://www.youtube.com/watch?v=l6IAoPAjzpw[/youtube]
For more information about the game, see the official web site.
Related coverage on the Fett comparison: IGN, Kotaku Australia
Updated: in the press release, the Fett-like character is an example of the Bounty Hunter class of character available in the game. Included in the press kit was this concept art:
Also a male equivalent: