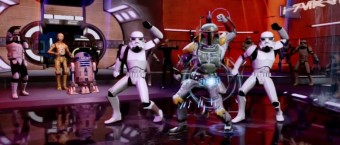 The Microsoft X-Box's "Kinect" video game platform has a new Star Wars game coming out April 3, 2012, where you can literally dance with Boba Fett and control a lightsaber without a controller.
[youtube]http://www.youtube.com/watch?v=M6KwoHFtwwc#![/youtube]
NowGamer.com recently posted a review:
The dancing clips – featuring Boba Fett and The Emperor – look like a re-skinned Dance Central while the Rancor rampage doesn't look anything like as exciting as it should, much like the lightsaber battles.