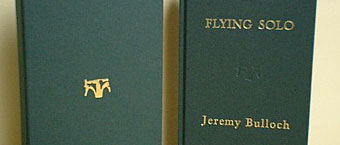 Mr. Jeremy Bulloch, our beloved actor of big Boba, has recently announced the release of his new book, Flying Solo.
For those of you who haven't been keeping an eye on Mr. Bulloch's new website, he has been keeping people up to date on the progress of his book. This book, limited to only 2000 copies, was just recently announced as finished, and more information is soon to come on how you can order this book directly, online.
More information, including a picture and teaser, can be found at jeremybulloch.com.