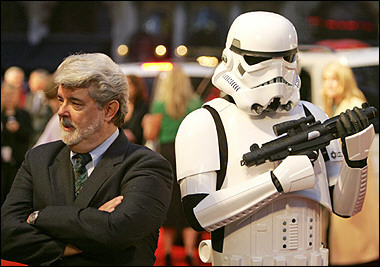 We have waited three long years. We've latched onto every rumor, and heard every excuse. Now the time has come, is Fett in the final installment of Star Wars, "Revenge of the Sith?"
This reporter sat down, waiting to see this new installment of Star Wars. With him; the best soda, Pibb. The best theater snack, popcorn. The most climatic chapter in the greatest saga of all time, Revenge of the Sith.
Of course, no Star Wars movie could be truly complete without a taste of Fett.
Unfortunately, our young hero that is hated by many, loved by more, and cherished by all of us at BFFC, did not make his much expected and hoped for cameo appearance in "Revenge of the Sith."
Fear not, while we do not see the great bounty hunter himself, there is plenty of hard-core, edge-of-seat action from his clone "brothers." Expect to see plenty of Jedi scum getting blasted by these ultimate soldiers created from the genes of the most deadly professional in the galaxy.
Fett or no Fett, this is the perfect movie to bring this great theatrical saga to a close. For those of you that are yet to see it, yet decided to read this spoiler anyhow, try not to drink too much bantha milk. You won't want to miss a single piece of the seemingly never-ending action of this movie.
Also, keep your eyes out for the Falcon, it's there.