Known to Boba Fett fans for his portrayal as Boba Fett in "Return of the Jedi: Special Edition," Don Bies is also a former ILM puppeteer, Lucasfilm Archivist, Droid Unit Supervisor, R2-D2 op, and "Vanity Fair" Jango Fett.
How did you get involved at Lucasfilm / Industrial Light & Magic? What was your first job there?
My first job at ILM was for a week as part of the puppeteering crew on "The Witches of Eastwick." I'm good friends with Jon Berg, who (among many things) animated the AT-ATs for "Empire" and the Chess Set with Phil Tippett on "Star Wars." I met Jon while working at Chris Walas' shop on "The Fly"; we became friends, and he was tasked with putting together a very large group of puppeteers to operate a Jack Nicholson puppet for the end of "Witches of Eastwick."
That was April of 1987. I was working at another shop near ILM and met David Schaeffer, who was an electronics engineer and worked occasionally as the R2-D2 operator for Lucasfilm as well as the C-3P0 dresser. David was offered a job with Disney Imagineering in mid-1987 and knew of my fondness for R2 and my ability with mechanical props and radio control (I had built my own full-size, radio control R2 in 1977 after "Star Wars" came out).
Since David was heading off to Disney, Lucasfilm needed an R2 operator for a series of commercials they were going to be filming in August of 1987, so David suggested me. I met with the Lucasfilm folks and got the job.
My first day on set was with George Lucas, Anthony Daniels and Peter Mayhew (and R2, of course), all starring in a set of ads for Panasonic of Japan. Not intimidating at all…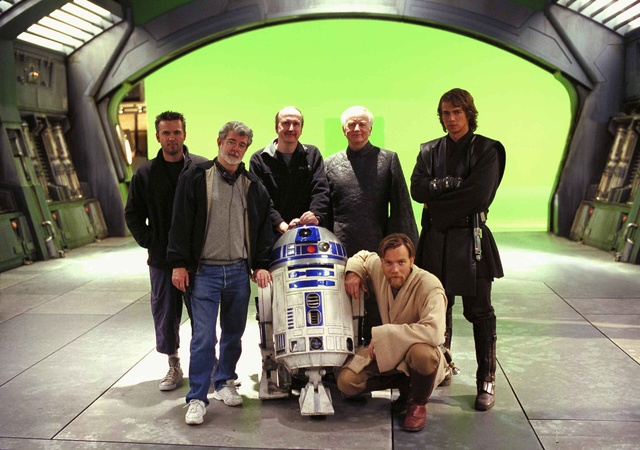 What is your fondest memory of working on the "Star Wars" prequel trilogy?
There are quite a few!
The most fun I ever had on a film was working on Episode II — not only did I get to spend two and half months in Sydney, Australia working with an awesome crew, but also production included me in as an important member of the team — such as crediting me as R2-D2 on the call sheet. Additionally, I got to go on location to Italy, Tunisia and London. The last day of shooting pick-ups in London was also my birthday, so on wrap the cast and crew sang to me.
Perhaps the sweetest memory was getting photographed by Annie Liebovitz for Vanity Fair magazine and including my son in the picture. He was six years old at the time, and it was one of the best father/son experiences I've had.
As the supervisor of the Droid Unit, what were some of your favorite droids to build and operate? Are there any that made their way to your own personal collection after those movies ended?
R2 is my favorite. We only built one new droid for the prequels — all the others were original trilogy, vintage props. Over the years, I helped improve them — one of the best things I ever did was meeting Grant Imahara and getting him involved in reworking the electronics. By Ep2, we had droids that were foolproof and hardly ever failed. The one we built new had a fairly sophisticated drive and steering system that Grant and several other ILM engineers helped to develop, but it was Grant's radio control knowledge and programming skills that allowed it to operate smoothly, making it a dream to control.
And no, I don't have any droids from filming at home. George would have noticed any missing.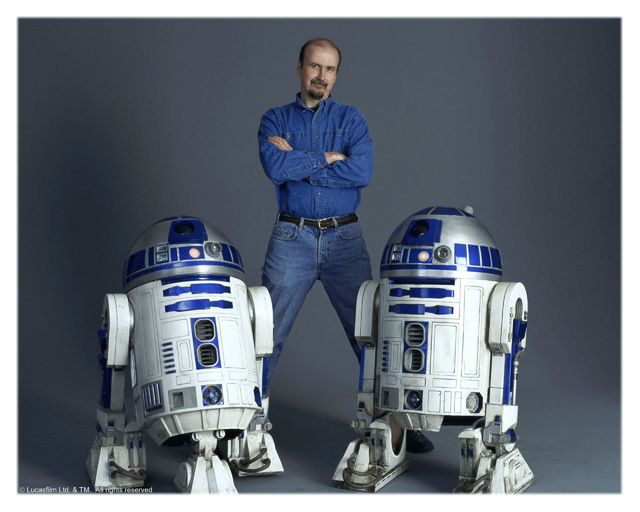 You were also a Senior Model Maker and Episode I R2-D2 operator, but also the Lucasfilm archivist. Could you tell us more about the work you did in the archive at Skywalker Ranch?
I was the second and fourth archivist. David Craig was appointed the first around 1983/84, I believe. Before he left, he began the process of organizing the archives, but left before any extensive work could be done. After I was hired to operate R2 in 1987, the people I worked with at Lucasfilm were aware of my Star Wars knowledge and prop/creature/model making abilities. They began organizing an exhibition at the local county fair for July of 1988 and asked me to help. After the fair, they asked me to help clean and organize the archives for two weeks. Those two weeks stretched into months and continued to get renewed, and eventually they gave me the title of archivist, though I was free to go off for months at a time to work on film projects.
In 1991, they completed the archive building at Skywalker Ranch and I coordinated the move to that facility (prior to that, the collection was spread among three warehouses). I also coordinated character appearances, helped licensing and games with research and advice on new products, did a number of commercials and print ads and helped organize exhibitions.
In 1994, I turned over the reigns to the third archivist, Nelson Hall and I was out of the country for a bit. He worked there for about a year but wanted to get back to ILM full time. I returned from overseas and was offered the job again. I stayed for about a year and then left to work at ILM full time, starting on the special editions.
Since I left, there have been two other archivists.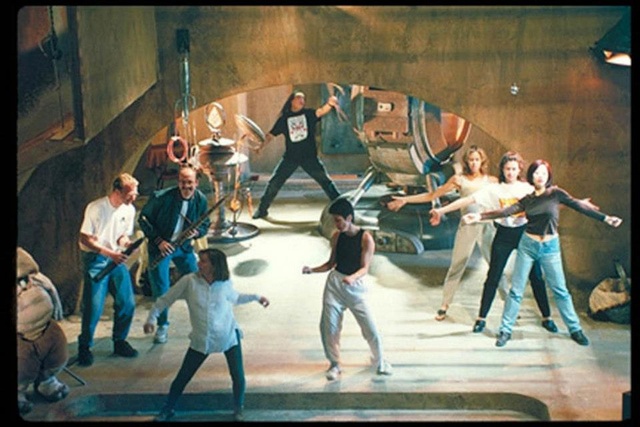 For the additional Jabba's Palace sequences for Return of the Jedi Special Edition, according to the official "Star Wars: Boba Fett" magazine (1998), "George literally decided that day to include Boba — he said it was his 'gift to the fans.'" How did you end up being the person wearing the Boba Fett costume? Did you volunteer or were they just asking people involved in production and you fit the costume? Do you recall the day or days that was filmed?
I was on set as the Bith musician, with Nelson Hall as the Rodian musician. Around mid-morning, George and Rick McCallum were talking and began laughing. Rick came over to me and asked me (since I had been the archivist) if there was a Boba Fett costume available in the archives. I had to think about it, as the one we typically used for character appearances had recently been shipped to the Smithsonian for the "Magic of the Myth" exhibition. I knew we had multiples of the costume, but they were stored in various boxes throughout the archives and were not together as a ready to use costume.
I told Rick I probably could put a costume together. He asked who could wear it — since I had worn the costume for a couple of appearances, I told him I could. At that point he told me George had this fantastic idea to have Boba hitting on the dancers and told me to go to the ranch (we were shooting at ILM) at lunch and get a costume and we'll shoot it the last thing that day with me in the suit.
At lunch, a production assistant drove me to the ranch while I ate. I had about ten minutes to pull the costume pieces together from memory (my sincerest apologies to fans for the mismatched suit pieces… something I hear about all the time…). The hardest part about the task was finding pieces that were in good condition and not broken or damaged. The backpack proved especially challenging, as I only found one that had the rocket and engine nozzles intact — but it was the one that had a huge "gash" on its back (made by Han Solo — or a lightsaber? Hmmm…) I figured as long as I didn't turn around no one would see it. (Turns out, I did turn and you can see it…)
We got back, finished shooting the main dance sequence and the crew moved into to do close-ups of the harmonica-playing creature while I went off and got dressed.
(I wear glasses. I have since the third grade. Without them, I can't see. I didn't have contact lenses at the time. I am now a meme for the rest of my life.)
I came out, George joked in front of everyone that I moonlighted as Boba's accountant (due to my glasses); everyone laughed, I cringed… we shot the scene in two or three takes. In about ten minutes, we were done.
When I did the first take and touched Mercedes Ngoh ("Rystáll") under the chin and walked out, the entire crew burst into laughter. My wife, who was there as a physical double for the Yuzzum, was laughing as well. I thought I did something stupid — no, she said — it was just funny.
At Star Wars Fan Days III (2009), you talked about the delicateness of the costume: "I had my hand up like that. In one shot, there's a tube there. In another shot, it's not there. It had fallen off between shots. We didn't bother replacing it." As a cosplayer myself, I know all about that. Were there any other stories of costume malfunctions or just challenges wearing the costume?
Because of the nature of that costume in particular and how it was pieced together, it was literally held in place by tape and prone to issues. But typically, that costume is one of the more comfortable ones to wear, and I've worn several the original trilogy character costumes. Aside from the slight uncomfortableness of the backpack due to its weight, it has very few challenges or issues.
Through Guy Hudson, you connected up with Mark Austin (who was already working at ILM in VFX on "Star Wars: Special Edition") for a tour of the archives, a gig wearing the costume for Star Wars Summit party, and then he's on film in the suit for the Docking Bay 94 scene on December 6, 1994. Any stories of how that all came together?
I recall Guy calling me up one day (Guy and I worked together on "The Fly") and telling me about a fellow countryman who was a big fan. Guy's nickname for fans/nerds/geeks was "squids." I think the call was something like "There's this Star Wars Squid that would love a tour of the archives."
I gave him the archive tour and got to talking with him. It was obvious he was a huge Boba fan (squid) when he saw the helmet — it seemed like I had given him the greatest gift he had ever been given.
The Star Wars summit was a huge gathering of all the current (at that point) licensees at Skywalker Ranch. It gave them an opportunity to meet and brainstorm the upcoming release of the Special Editions and consisted of presentations by Lucasfilm staff, peppered with character appearances. Darth Vader and six stormtroopers opened the event (with original audio recorded by James Earl Jones!), and then C-3P0 (played by Grant Imahara with original audio by Anthony Daniels) and R2-D2 introduced George, who told the crowd he had just started writing Episode I the day before.
The evening culminated with a party at the Mos Eisley Cantina — actually, the scoring stage on Skywalker Ranch. The stage was decorated and lit accordingly, and we had about thirty to forty characters mingling with the guests.
It was my job to coordinate all the characters, so I put out a casting call to the Lucasfilm companies to get bodies to fill the costumes. I already knew about Mark's affinity for Boba, so there was no question who would get to play him. Mark took it very seriously — he never spoke in costume and simply moved quietly and carefully about the room, stalking… I insisted that all costume characters take regular breaks, but I don't recall if Mark ever took one — I think he stayed out there the entire time, roughly two to three hours.
The Summit was held in early November 1994 as I recall, so when the need for Boba to appear in Docking Bay 94 was requested, Mark was fresh in everyone's mind. He might have told the production he had just played Boba and could fit the costume… but you'll have to ask Mark his recollections.
Nelson Hall also wore the costume for the walking-by shot added in "Return of the Jedi: Special Edition." How was that decided – who gets what shot?
I can't recall why he did that — he probably was available and I wasn't…? I know that both he and I were in so many additional shots as various characters in the special edition, the VFX supervisor asked "Is there not anyone else who could do these?"
To promote the prequels, you also wore the Jango Fett costume on Vanity Fair's special Star Wars Episode III spectacular cover photo. Before Temuera, you were the only Fett actor to wear both Fett costumes. How did that feel? Also, on the day of the photoshoot, did you volunteer to participate? Was the photo shoot similar to your experience filming as Boba Fett?
I believe Lynne Hale, head of Lucasfilm PR, asked me to do it when we were in Sydney, Australia working on Episode III I guess because she knew I wore the Boba suit previously. I said yes, of course — getting to play both Boba and Jango was super cool!
The photoshoot was actual spread over a couple days. Annie Leibovitz used stand ins (and me) to help block out the shot a few days before it was scheduled, and then a second time if I recall. I remember going into a fitting at the wardrobe department and discovering I'm taller than Temuera, as the jumpsuit was tight on me vertically. During filming of Episode III, Lucasfilm's Pablo Hidalgo put up webcams in various places around the stages, and it happened to be in the sewing department the day I was trying on the costume. Someone thought it would be a clever idea for Jango to appear on the webcam, so I walked up to a sewing machine and pretended to sew for a few minutes. The discussion boards lit up, wondering why Jango was around at all for Episode III…
I seem to recall the photoshoot was a Saturday or Sunday at the studios. We shot it on the backside of Palpatine's office set, and while I was suiting up the other cast members were assembling. Ewan McGregor remarked that this would be a Star Wars fan dream convention.
Samuel L. Jackson was being interviewed by the Lucasfilm press team on the Palpatine set, and when he was done, someone thought it would be cute for me to go in as Jango. I walked in, he roared with laughter and came over to me and gave me a huge bear hug — apparently thinking I was Temuera. As we hugged, I said quietly to him "I'm not who you think I am…"
The shoot was fantastic; Annie is amazing — I've been lucky enough to have been photographed by her on several occasions. And the cast was fun and having a great time joking. I got to stand next to Christopher Lee and Ian McDiarmid, which was really special for me.
Annie photographed the other members of the cast separately and composited them together (look at R2's foot for a compositing anomaly) — but alas, I was cut from the final print…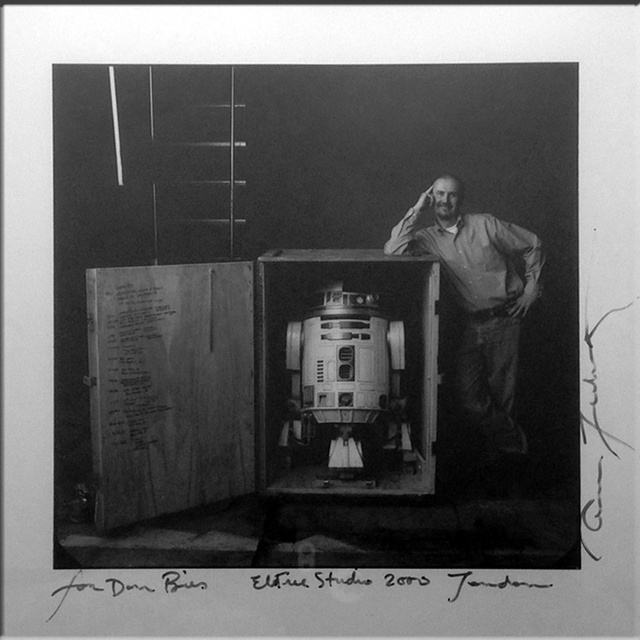 Have you and your family been keeping up with Disney's Star Wars content? Do you have any thoughts on the endurance of a character like Boba Fett and now all of the other Mandalorian characters across the movies, television and animated shows?
Yes, I have watched all the live action sequels and as well as the series. It's not a surprise that the character has endured — the fanbase is immense and the character is so popular. Long ago, I said that the universe George created was so rich that one could find compelling stories in almost any corner of the galaxy. The success of the spin-off shows is proof of that.
Lucasfilm and Industrial Light & Magic have always been pioneers in the film industry and have proven it again with their use of Stagecraft and the Volume. What's your perspective on the changes in technology in the industry?
I think it's absolutely amazing what is possible in film these days. I also think the really cool thing is how accessible the technology is to young film makers. It's incredibly exciting to watch the technology develop around us. Of course, films are only as good as the stories they tell.
You have had an incredible film career with credits ranging from "The Fly," "Indiana Jones," "Starship Troopers," and dozens of Star Wars projects. Do you find yourself preferring certain jobs or do you like getting to wear different hats as part of the filmmaking process from project to project?
I was really lucky to have been born when I was and have the opportunities I did when I worked at ILM and Lucasfilm. I liked all of it, though I really enjoyed being on set during filming versus working on films at the shop.
Since your time in the Star Wars universe, what have you been working on and are there any upcoming projects we should keep an eye out for?
Currently, I am the lead designer at a company that makes trauma training mannequins for the military and first responders. The company is a spin-off of folks from the ILM model shop, so it's been great to continue working with some of the same people I've known for the last thirty-plus years.
However, I'm always keeping an eye out for interesting film projects, so I occasionally still do some of that. A few years back, my wife and I teamed up with the creature supervisors for Episode 3, Dave and Lou Elsey and made a short horror film, "Keep the Gaslight Burning".
It starred the late Markie Post from TV's "Night Court", "The Fall Guy" and "There's Something About Mary". Playing a very interesting (and creepy) part was eight-time Academy Award winning make-up artist Rick Baker, and Phil Tippett's VFX shop did some effects for it. It was a lot of fun and did well on the film festival circuit, winning a number of awards. Currently, you can watch it on Amazon Prime.
Thank you, Don!
BFFC's Aaron Proctor also contributed to this interview.