NOTE: Please see our Fett Fact Check for up-to-date fact versus fiction on this subject.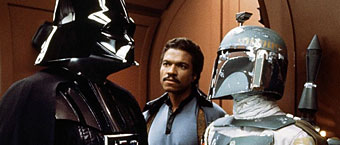 Today — on #StarWarsDay and #MandalorianMonday — TheWrap published an article entitled, "'Star Wars' 2nd Anthology Film Will Be Boba Fett's Origin Story." It goes on to say very little. Yet, in a matter of hours, every film/fan site seems to carry it as validation.
Josh Trank recently exited the Disney project, which will follow the galaxy's most notorious bounty hunter

The next "Star Wars" anthology movie due in 2018 that recently lost director Josh Trank will be a Boba Fett origin story, confirming one of many rumors that have appeared online in the last several months, TheWrap has learned.

A representative for Disney had no comment.

Boba Fett is a Mandalorian warrior who was trained by his father-figure Jango Fett and became a notorious bounty hunter throughout the galaxy. His travels led him to work for the Empire, collaborate with Darth Vader and take assignments from figures such as Jabba the Hutt, for whom he once captured Han Solo.
The flaw in the story is the lack of quotes, attribution, and fresh content. Just a "learned" validator.
Come on.
Since February 2013, when the Anthology films were first announced (under the term "spin-off" and "stand-alone"), Boba Fett has been mentioned time and time again. We track the play-by-play in our Fett Fact Check. Most of the rumors have been debunked.
The content in TheWrap's article reads more like a summary of existing rumors. Even the proclamation language has been done before.
While we're hoping for a Boba Fett film, we're unconvinced by this story and stay vigilant to more substantive, original reportage.