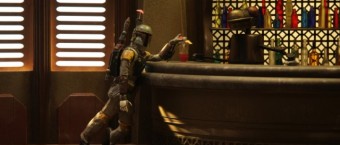 In the run up to tonight's premiere of Robot Chicken: Star Wars III, Screen Junkies interviewed Matthew Senreich, where Boba Fett came up in conversation:
SJ: Why is Mace Windu eating ice cream?

MS: Actually, you know what's funny about you asking that? That's actually not in the final version. We ended up cutting it because a lot of people asked that question. It's just showing the fact that here's what happened to Boba Fett and what his life was like. Then it was cutting to Mace Windu just being like this is how awesome his life is. This is the guy who killed this guy's dad and this is how wonderful it is. He's just worrying about ice cream, and that just did not play at all so we cut the Mace Windu beat.

SJ: Did you all have a fantasy that Boba Fett wins?

MS: I think Breckin Meyer still has the fantasy that Boba Fett wins. I think it's one of those things where for us Boba Fett is just awesome but undeniably he kind of doesn't do anything in the movies. He just looks cool. He gets killed pretty quickly and easily so we just want him to be as cool as that suit is.