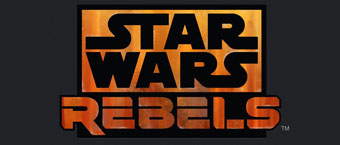 Confirmed today at New York Comic Con's "Star Wars Rebels" panel, there will be bounty hunters in the new cartoon series slated for Summer 2014 on the Disney XD channel.
Many fans live tweeted the event, despite sub-par ability to do so from the convention venue. One of our fan informants, Anthony H., tipped us off right away. Way to go!
The storyline is set five years prior to Star Wars: A New Hope, where we saw Boba Fett added in the Special Edition (1997) release. The Underworld will also be a storyline. "Some" of the Clone Wars characters will re-appear, the public announcement noted.
Many of the creatives behind "The Clone Wars" animated series are involved, but they noted the animation style is distinctive enough that no assets (e.g. computer models) will be re-used.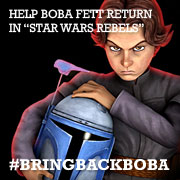 While Boba Fett was not mentioned during the official announcement, and while there's a history of inventing new characters (e.g. Cad Bane), the fans will demand Boba, and likely get the cosmic cash cow character. You can see our effort at #BringBackBoba.
Joe Johnston, the designer of Boba Fett turned director (of The Rocketeer, Captain America, and many more feature films), was also noted as the designer of a new Star Wars vehicle called the AT-DP.
The announcement also mentioned that the remaining season of "The Clone Wars" will be released. Previously, the series was shelved.
What are your thoughts? Add a comment below.