NOTE: Please see our Fett Fact Check for up-to-date fact versus fiction on this subject.
Back on April 30, Lucasfilm had a "kick off" meeting in Japan for Episode VII, which featured Lucasfilm President Kathleen Kennedy and Episode VII actress Daisy Ridley. In an article published on May 8th at the Japanese language site for Kotaku, Kotaku.jp (whose English language site is a popular video game site), Boba Fett appears to be mentioned in the transcription.
[UPDATE: Gigazine.net, which has hi-res photos of the events and may be Kotaku.jp's own source, has a Japanese transcript of the Q&A — but "Boba Fett" isn't mentioned, only "Jar Jar."]
The quote is in a response attributed to Kathleen Kennedy, regarding a question about the possibility of Boba Fett returning in the upcoming films. Now, the article and its transcription are written by someone by the name "Mercenary Penguin" aka KT_writer25, (who we tried to contact but cannot reach), so we are taking the authenticity of this transcript with a grain of salt. It was recently unearthed a week after the event by Star Wars rumor site, StarWars7News.com, which we learned about via Scified.com.
Up until this point, Boba Fett has still only been rumored by bloggers. See our play-by-play on saga films like Episode VII and anthology films like Rogue One.
Here is the literal Japanese in the article:

We started with a rough translation, based in part on Google Translate and Microsoft/Bing Translate, which we've isolated to just the part about Boba Fett here:
Q: "Does Jar Jar come back or will Boba Fett come back?"

A: "Don't worry. Boba Fett is a high priority on our list. Please wait."
We know by auto-translating we're losing context and accuracy so we found a Japanese speaker from our followers on Twitter. (Thank you Martin Nicholson!) Here's his translation:
A: "Jar Jar Binks isn't being brought back but Boba Fett is; hence, Boba Fett is more important than Jar Jar Binks."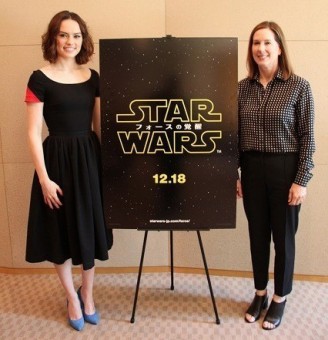 Assuming this Japanese quote is a correct transcription, this quote is the first official, quotable mention of Boba Fett regarding any forthcoming saga or anthology film. That said, the mention alone is not a confirmation that Boba Fett is in, or the subject of any, saga or anthology film.
We would also love if any other sources are available, like video from the Q&A, to further verify that the transcription is authentic and not "clickbait." Even with the word "confirmation" being thrown around so often nowadays, including most recently by TheWrap (in which we had issues), we're all about fact-checking and uncovering information with integrity.
All in all, we have our fingers crossed all is in good hands, especially if any true talents like Simon Kinberg, Lawrence Kasdan, and possibly Joe Johnston are in fact involved.