Thank you Misty Rosas for taking the time to do this interview. You have had an impressive and varied career in Hollywood, from acting, stunt work, writing and producing — there isn't much you haven't done. Could you tell us a little about yourself, like how you got into the business and some of your most memorable accomplishments?
The pleasure is all mine! Thanks for having me!
My height! My height has played an integral role in the work I have done. I took my first gymnastics class when I was 2 1/2 years old, and I was immediately hooked! I trained and competed as a gymnast for the next 18 years of my life, and I was an elite gymnast on the U.S. National Gymnastics Team. I feel the most important part of that experience was the physical strength and flexibility that I gained from training for so many years, as well as, THE LESSON. The discipline and the knowledge I acquired about how hard you have to work, for a very long time, in order to make it to the top is invaluable! Gymnastics prepared me for my career, and for that, I am truly grateful!
I booked my first professional job in the entertainment business at Disneyland. My first show with the Walt Disney Company was Fantasmic! I was cast as a dancing monkey on the King Louie barge, and Donald Duck on the Mark Twain riverboat during the big finale of the show. Throughout my career at Disneyland I had the opportunity to perform as Mickey Mouse, Minnie Mouse, and Daisy Duck in Fantasmic! as well as in various parades at the park, and I was a pole climber in The Lion King Celebration. Whenever I hear the Lion King music I get goosebumps! The Lion King Celebration was one of my favorites! The message is so powerful! The music, the dancers, the live drummers, it always filled my heart and soul with so much joy!
As a performer at Disneyland, I gained a lot of experience being in costumes, but nothing could prepare me for my first film role! Because of my height, my strength, and physical coordination I booked a role in the Paramount Pictures production, "Congo." I was originally cast as one of the Grey Gorillas, but during preproduction I became part of Team "Amy" with Lorene Noh, and together as a team, we brought "Amy" to life on the big screen! I remember vividly the first time I put on the animatronic head at Stan Winston Studios! My first thoughts were, "Oh wow this is heavy! I can't see! It's not easy to breathe in this!" Fortunately, production planned for 3 months of training to prepare me and my fellow suit performers for the intensity of the role, Gorilla Artist! It was an extraordinary experience! My first project with Kathleen Kennedy, ILM – Industrial Light & Magic, and the team at Stan Winston Studios, now Legacy Effects Studio. It is so nice to reunited with them on The Mandalorian!
My most memorable accomplishments: Kuiil is at the top of my list! My work as a Gorilla Artist in the films, "Congo" and "Instinct." As a stunt woman, doing 6 full body burns while flying through the air on a ratchet for the film, "Van Helsing." I also really enjoyed playing the role of a demon in the horror film, "Room 6." It was a nightmare sequence. I got to fly on wires all around inside a church, terrifying Christine Taylor. The prosthetics I wore for that character were really cool! It was terrifying! I am most proud of the fact that post production added, with special effects, what I did with my tongue during the reveal of my character in the scene. It was so sinister. This character allowed me freedom to experiment and to do things I would NEVER do, or want to do to someone as kind as Christine Taylor! :)
You have done both traditional costumed work as well as motion capture performance, the latter most recently as Kuiil in the popular Disney+ series "The Mandalorian." How are these two formats different for you? How are they similar for you? Do you prefer one over the other?
Yes, I have done both. Each discipline has different challenges.
Suit work is extremely demanding on my physical body! The weight of the animatronic head, all of the wires and servo motors, the large batteries required to make it all work, and the fact that once "rolling" is called, my puppeteers close the character's mouth and I am suddenly without oxygen. Carbon dioxide becomes a factor, as well as hydration! It's a lot to handle while also acting. Fortunately for me I've been trained by some of the most talented suit performers/actors in the business, Peter Elliott, John Alexander, and Michelan Sisti. They were gracious enough to share their knowledge and experience with me, as well as the dietary supplements necessary to stay healthy during the extreme conditions of suit work performance.
Motion Capture is a bit easier on my body. I don't have the weight of an animatronic head on my shoulders, nor do I have the oxygen deprivation! However, the characters come with other restrictions! Almost all of my motion capture performance has been done on The Chaplin Stage at The Jim Henson Company. The animated characters I have played are 2 to 3 times larger than me, so I have to be very aware of my physical space, the space between me and the other characters in the volume, and the physical limitations, for example, my feet always have to remain about 6 inches to a foot apart, and if I put my arms by my side they would intersect the character on the screen. The talented fabricators at the Jim Henson Creature shop built what the Shop calls outriggers. Outriggers are costume pieces to help me with the character constraints, ie., large block pads under my arms, and a big saddle-like piece between my legs! I'm a vision in this mo-cap costume! Also, I am my own stand-in when I work on motion capture productions, which means there are no breaks! The days are long and physically and mentally grueling, but I do laugh all day with my fellow motion capture performers on the floor and the puppeteers, and we are bringing entertainment and education to young children … for me, it doesn't get better than that!
The difference between the two is being able to see, and to breathe! I usually have minimal to no vision in animatronic heads. Although Kuiil is an exception! Kuiil's head is a practical build, an animatronic head (built by Legacy Effects) but my eyes are exposed, and I wore full eye contact lenses.
I love both equally! At the Jim Henson Company I get to "be" an animated character in real time! Literally walk around and talk and interact as a cartoon character. It is so much fun! And then practical builds, like Kuiil, I did not see my work until The Mandalorian premiere on November 12, 2019. Finally getting to see him on the big screen at the El Capitan Theatre, and experiencing it with the audience, it was just incredible! When people laughed at his dry humor, and the line "I have spoken," it put the biggest smile on my face! It was the best feeling ever! I am so proud of Team Kuiil: Nick Nolte, me, Jason Matthews, David Covarrubias, Rodrick Khachatoorian, Whitney LePon, and Connie Criswell. It takes a village to bring Kuiil to life!
Speaking of Kuiil, how did that opportunity come about? How was the experience on set? What was your favorite part about playing the Ugnaught?
I went in for a cold read audition with Sarah Finn Casting. I didn't know what I was auditioning for, but I was really excited to be there, and even more excited to get to audition with Sarah!
Walking onto set everyday was HEAVEN! I felt so much pride and excitement! I felt butterflies too! The private rehearsals first thing in the morning with the cast, our directors, Dave Filoni, and Jon Favreau, …oh the butterflies in my stomach were wild! I was nervous, but also so proud to get to be a part of The Mandalorian! It was an honor and a great privilege, so I always came to set well prepared and ready to work hard.
My favorite part about playing Kuiil: ALL OF IT! Ha! :D It was truly the greatest experience of my life thus far! The sets were so incredible, so very Star Wars! Every time I walked on set I was just in awe! I know I had a smile on my face 24/7! My favorite part of getting to bring Kuiil to life is that I got to embody his wisdom, his patience, his humanity, his kind heart underneath his weathered, gruff exterior, and his selflessness! As sad as I was going in to shoot his death scene, I was also proud that he died trying to protect Baby Yoda, The Child! To protect the innocent, and to choose to sacrifice yourself for the greater good of all, it is truly heroic! I was so incredibly proud, and so grateful that I got to be a part of Team Kuiil!
My favorite moments (ALL OF THEM!!) but if I have to choose, my top 3 are: The chase scene back to the Razor Crest in Episode 7, the montage with IG-11, and holding Baby Yoda! OH MY HEART! I love that baby so much!
Did you know about your character's fate at the end of the season when production began?
I did know my fate going in.
I remember being in my room reading all of my scripts. I was hooked from Episode 1! I was a huge fan before we even started shooting! Jon Favreau is such an incredible writer! Kuiil is such a cool character! And then I read the last scene in Episode 7. I put my scripts down, I had tears in my eyes, and I was just so sad! Nooooooooooooo! Not Kuiil! What a loss! My first thought was, "NOOO! I just got to Star Wars! I want to stay for a while! PLEASE!!!" My second thought was, "How lucky are you!?! You have been given an opportunity to get to play such a cool character! IN A STAR WARS SERIES! So work hard everyday, make him memorable, and bring your A Game Mist!"
Before this role, were you already a Star Wars fan? How has it been to see the fan reaction? What about becoming a collectible?
Yes, I was a Star Wars fan! Watching "The Rise of Skywalker" in the theater brought it all back, and brought it all home for me! I was an emotional mess at the end of the movie, and at that moment I felt even more pride! To be a part of "The Mandalorian" means so much to me! So booking this role was a really big deal! I had tears of joy streaming down my face when my agent, Heidi, sent me my deal memo! I was shaking! I called my mom and I remember saying, "Oh my goodness! I get to be in Star Wars! I don't know what I'm doing? I DON'T CARE! I get to be in a Star Wars story! It doesn't get better than this!" … and then more tears of joy streamed down my face!
I got really nervous a few days before the premiere! I love Kuiil so much! Me and my puppeteering team at Legacy Effects, we worked so hard to bring him to life, and to sync our performances together with the brilliance of Nick Nolte and his wonderful voice and vocal performance! I had no idea how Kuiil would be received? This is my first experience on a project that already has such a huge fanbase! Yeah, I was nervous, but then the fans started to reach out to me on social media, and I have been blown away by their kind words, the fan art, the tribute videos on YouTube, and the videos of the fans reactions to Episode 7 (Those really touched my heart and made me laugh and cry all at the same time!) It is really incredible to experience the joy and excitement, and the tears with the fans! Also, I want to thank you for being one of the first to write on my Facebook page! THANK YOU SO VERY MUCH BFFC!
Kuiil's Funko POP! is so cute! I'm just so proud! I've had so much fun signing them for friends and fans! I think the best part about all of this is the human connection that goes along with it! To get to meet fans in person, to sign their Pop! and their pictures, and to say, "THANK YOU!" to them, it is really special!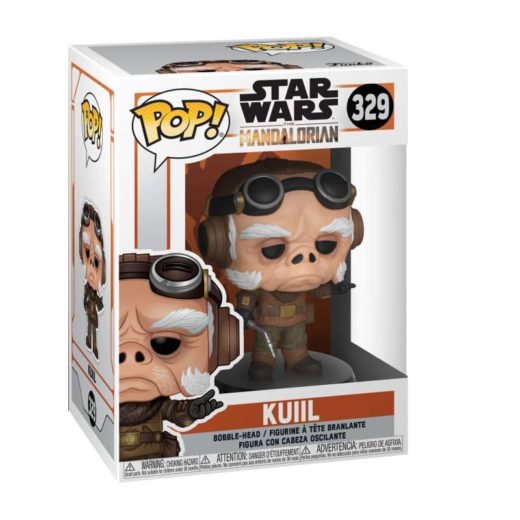 Did you get to collaborate with other actors on the set of "The Mandalorian?" Was Nick Nolte's voice recorded after your work was done or did you two ever meet?
I got to work with everyone on set everyday! It was amazing! Everyone is so incredibly kind and generous! There was so much laughter and fun on set! I even got to meet some of the cast that I didn't have scenes with, Giancarlo Esposito for instance. He's brilliant, and has such a commanding presence! It was inspiring to watch him work!
Mr. Nolte recorded all of his lines beforehand. He also gave me the luxury of about 2 to 3 different versions of each line. Sometimes I would get his dialogue tracks the day before a shoot day, and some times the day of. He is so incredibly talented! He made my job easier! His delivery of the lines gave me so much to work with on set! I have not met him yet, but I would very much like to meet him someday! … to say, "THANK YOU!"
The Mandalorian's showrunner, Jon Favreau, incorporated an innovative approach to filmmaking using "StageCraft," which removes the need for greenscreen by using photo-realistic imagery on LED video walls. Did you get to experience this during your performance as Kuiil? What are your thoughts on this new filmmaking technique?
I did! With the exception of 4 days of exteriors, most of my shoot days were in the dome. It was so amazing! It's hard to describe! The way the LED video walls give the illusion of such a vast space! I didn't have to imagine where I was, because, well, I was there! It really is extraordinary! And it gave production a little breathing room as far as 'light'! We weren't chasing the sun.
It is groundbreaking technology, and it allows for a great deal of freedom! I am very excited to see what they do in Season 2!
Besides your extensive work in film and television, you have ventured into music as well, including such hits as "Panic Button," "Paper House," and "Hot!" How did this come about? Do you have any upcoming songs or projects?
Thank you so much for your kind compliment! It really means a great deal to me!
I have always been drawn to music, ever since I can remember! I was always in the choir in grade school and Jr. High, and I took vocal courses in college. Music has always been in my life, but one faithful afternoon at an audition my career in music began to take shape. It was an acting audition, but the creator and producers of the television series asked if I could sing, and I said, "Yes!" Halle Stanford, the show creator, was so impressed with my singing audition that she introduced me to, Paul Graham, the music producer on the television series. I then pitched the one song I had written at the time, "The Last Goodbye", to Paul and his music producing partner, Paul Bushnell. They liked my song, they took me on as an artist, and the rest is, well, on YouTube, iTunes, Amazon Music, Spotify, and Jango Radio. ENJOY!
Finally, which do you think is the most memorable line/phrase: "I have spoken" or "this is the way?"
Oh my goodness! Well, of course I am partial to, "I have spoken." I feel like my delivery of this line during my audition is the reason I booked the role! So it means a great deal to me, and my friends always hashtag it when we have exchanges on social media, and that always makes me smile! Again, Jon Favreau is brilliant, and that line got a lot of laughs, a lot of memes, and fan art!
I LOVE "this is the way" too! I feel that this line is so symbolic and representative of who the Mandalorian is, and I like to believe that it inspires people! It inspires people to do the right thing, and to protect the innocent no matter the cost! I am so dodging this question! Ha! For me, it's a tie! I think they are both equally fabulous for different reasons!
Which do you feel could be the best title for a song of yours?
Ahhhhh! That's a tough one, but I'd have to go with, "This is the way". In my live music show, based on my album's theme and title, "Life Lessons Love," I always encourage the audience to be courageous and to go after their dreams too, because ANYTHING IS POSSIBLE! Be brave! Believe in yourself! Take small steps! The butterflies in your stomach are a good thing! It means you really care about what you are doing! And like me, if it takes you most of your life to get where you want to be, IT'S OKAY! It's your journey! … "This is the way!"
Thank you Ms. Rosas for your time — we wish you the best of success!
It was my pleasure! Thank you so much! "I Have Spoken" I Love you Kuiil! Forever!
Official behind-the-scenes photos by François Duhamel (SMPSP) and Melinda Sue Gordon (SMPSP).