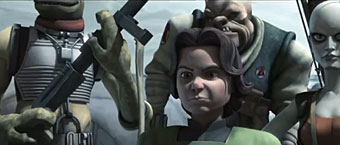 All of the final season of "The Clone Wars," coined "The Lost Missions," is premiering right now on Netflix.
Who's watching all episodes in one sitting — aka binge-watching — and who's going to be the first person to let us know if and where they brought back Boba Fett?
Update 3/7/2014 12:50am PST: We did. Despite the synopsis for Season 6 Episode 5 "An Old Friend" mentioning that there's a bounty hunter (who we quickly see isn't Boba), we skimmed all episodes very quickly and did NOT see Young Boba. No cameo is unfortunate.
Young Boba Fett, voiced by Daniel Logan, last appeared in Season 4. His storyline was not wrapped up, leaving unanswered questions. Check out the episode breakdown on Fettpedia.