The original man behind the mask of Boba Fett, Jeremy Bulloch, passed away today. This is our tribute to the man and the legend. The actor inspired the start of the Boba Fett Fan Club and we were fortunate to work with him since the beginning in 1996 through to this day. Born on February 16, 1945, he was 75 years old.
Jeremy portrayed Boba Fett in "The Empire Strikes Back" and "Return of the Jedi," along with other actors and stuntmen. He set the tone and the stance, inspired by Clint Eastwood's "A Fistful of Dollars" less-is-more approach. Jeremy also had an unmasked cameo as Lieutenant Sheckil in "The Empire Strikes Back" and Captain Jeremoch Colton in "Revenge of the Sith."
In the early years of BFFC, we hosted Q&As with him and fans, sat at convention tables with him, and was his early online presence. He eventually spun up his own website, but we never stopped collaborating. Our anniversary "BFFC" designs for fans to have offline have been in honor of his favorite charity, Great Ormond Street Hospital Children's Charity, raising over $3,000 to this day.
In 2015, after Star Wars Celebration, we did a video interview with him:
We also did a video with him in 2010:
In 2017, he was with Daniel Logan and Temuera Morrison at Star Wars Celebration Orlando:
In 2013, Star Wars Celebration Europe featured an interview with Jeremy Bulloch, Daniel Logan, John Morton, Dickey Beer, and Temuera Morrison:
Jeremy wore a screen-accurate Boba Fett costume made for him by fans, as seen here: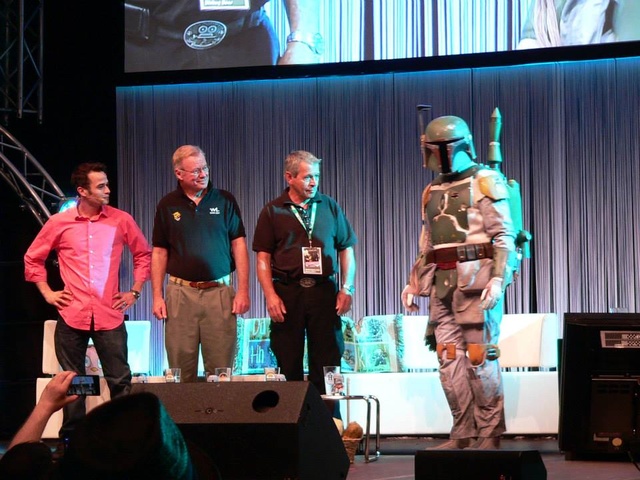 (Photo via Nirob Shysa)
Touring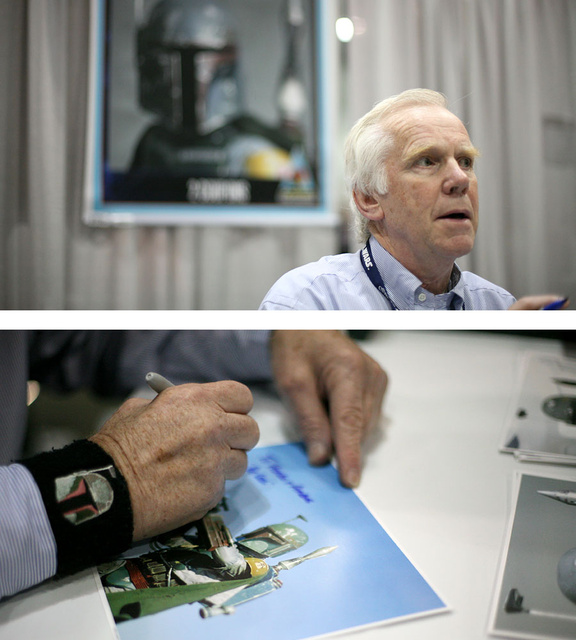 (Photo: Aaron Proctor / Boba Fett Fan Club)
Jeremy toured the world for years, signing autographs and meeting fans. We have logged over 300 tour stops in our Follow Fett calendar for him.
Some of the regular stops were Star Wars Celebration and also Star Wars Weekends. He would often be there with other Boba Fett talent, like John Morton, Dickey Beer, Daniel Logan, and others. In the 90s, the "Men Behind the Mask" tour also had him there with Dave Prowse, Peter Mayhew, Kenny Baker, and others.
In 2018, Jeremy Bulloch retired from touring.
Quotes from and about Jeremy
"I got into the costume and I put the helmet on. There were lots of little gadgets and knee pads and the boots had two little jets on the toes. I thought, 'This looks rather good!' There was a jet pack, too. I found what I thought was my hair so I put it on underneath the helmet, hanging down. When I came out to show George Lucas, he said, 'What's that funny thing sticking out of your helmet?' I said, 'Isn't it the character's hair?' 'No,' said George, 'it's a Wookiee scalp — it's supposed to be tied to your belt!'" — Jeremy Bulloch, as quoted in Lucasfilm Fan Club Magazine #21 (Winter 1994)
"Occasionally, I would make a movement, but a little one, because the less you do, the stronger the character is. So I would just stand with my hip one way, and I'd cradle the gun a certain way. He's aware that something could happen any time, so he's quick with the gun. It's ready cocked. He knows exactly what's going on behind him. He may be moving slowly, but he's deadly when it comes to that sudden movement… I thought of Boba Fett as Clint Eastwood in a suit of armor." — Jeremy Bulloch, as quoted in Star Wars Insider #49 (May/June 2000)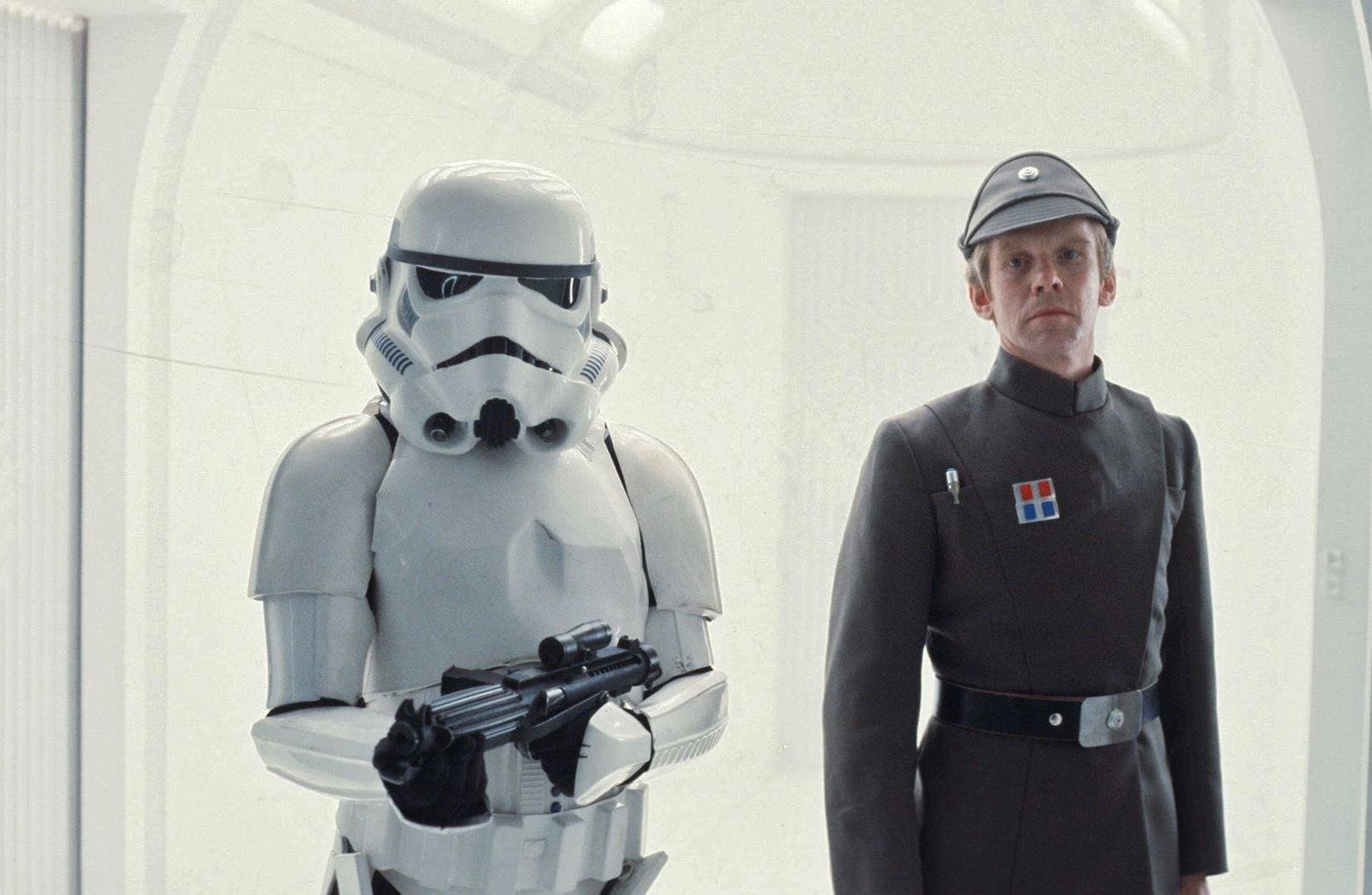 "I was sitting down waiting to do a Boba Fett scene — the one where I was firing in Cloud City at Luke Skywalker — and they said, 'Jeremy, Jeremy, quick, get changed.' I went to wardrobe and they took the Boba Fett outfit off and put me in this Imperial Officer's outfit. There was no one available to play the part, so that's what it was." — Jeremy Bulloch, as quoted in Vanity Fair (2010)
"Jeremy brought the perfect combination of mystery and menace to his performance of Boba Fett, which is just what I wanted the character to convey. In addition, Jeremy was a true gentleman who was very supportive of Star Wars and its fans, and I'm very grateful for his contributions to the saga and its legacy." — George Lucas, as noted in Jeremy's obituary on StarWars.com
For more, see our list of interviews. We also have more quotes
Jeremy Bulloch's Life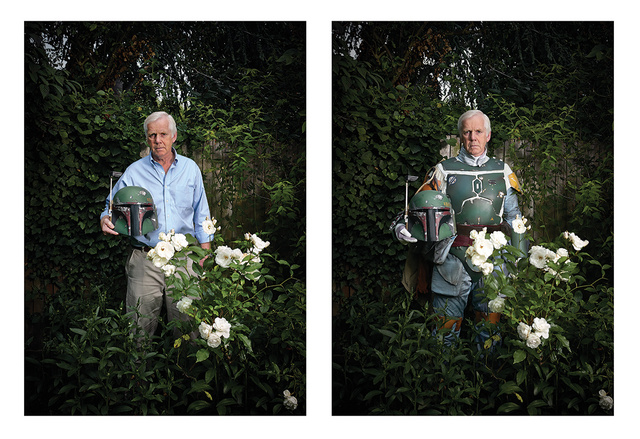 (Photo: Paul Crowther / Revolver Photo)
"He truly reflected the humility of a simple man making his way through the universe, in and out of costume," notes Quinn Crain, contributor to the Boba Fett Fan Club.
Here is Jeremy's biography, written a little while back but still relevant in chronicling his earlier years:
Jeremy was born in the town of Market Harborough in the middle of England. He is one of six children and even at the young age of five was on stage in his school show enjoying acting and singing. After failing a school exam at the age of eleven Jeremy seemed destined for the acting profession and was soon attending Corona Academy Drama School, making his first professional appearance at the age of twelve when he appeared in a commercial for a breakfast cereal.

Following many appearances on childrens television, Jeremy's big break came at the age of 17 when he landed a major role in the musical film Summer Holiday which starred the pop idol Cliff Richard (now Sir Cliff). Shortly after he went into a BBC soap opera called The Newcomers which ran for three years and made him a household name in the U.K. In 1969, Jeremy was off to Madrid in Spain to play the leading role in a musical film called Las Leandras. This was followed by two major films: The Virgin & the Gypsy and Mary Queen of Scots.

During the 1970s he made many other screen appearances, including the James Bond films, in which he portrayed the character "Smithers" (Q's assistant). In 1977 Jeremy spent six months in the Far East, where he was based in Singapore and travelled to the Philippines, Hong Kong, Malaysia, Thailand and Indonesia filming a BBC drama documentary called The Sadrina Project. This documentary was designed to teach the English language to people in the Far East, mainly the Chinese. On a trip to China some 15 years later, where Jeremy was performing in a stage play, he was instantly recognised by hundreds of people who said they had learnt their English from the Sadrina Project.

In 1978 he was starring in a hit television comedy series, Agony, which was co-written by an American called Len Richmond. It was during this series that Jeremy was asked to play a small part in the sequel to Star Wars. The part, of course, was "Boba Fett" — proving the old theatrical saying that "there is no such thing as a small part"! Return of the Jedi soon followed and Jeremy was invited to reprise the role of Boba.

Since the early 1980s Jeremy has played many roles on television and on the stage in London's West End. He has also done two world-wide theatre tours covering the Middle and Far East. Jeremy appeared regularly in the favourite T.V. series Robin of Sherwood, in which he played the part of Edward of Wickham. Jeremy's son Robbie was asked to play Matthew in the series. Robin of Sherwood has a great following all around the world, and Jeremy attends the convention "Spirit of Sherwood" in Novi, Michigan every year, work permitting. Another popular series he has appeared in is Dr. Who where he played Hal the Archer in The Time Warrior with Jon Pertwee, and also Tor in the Space Museum with William Hartnell as the Doctor.

Since the re-release of Star Wars in 1997, the interest in the character of "Boba Fett" has meant that Jeremy has been invited to many sci-fi conventions and events all around the world. His fan mail has increased five-fold, and he manages somehow to reply to everyone that writes to him.

In the little leisure time he has left, he loves nothing more than a game of cricket with his friends. Jeremy also enjoys travelling; in the past few years he has spent more time abroad than at home. He has collected an awesome amount of Boba Fett memorabilia, some given to him by dedicated fans, and some he cannot resist buying at toy fairs. His office at home resembles a "Boba Fett" museum.

Jeremy has three grown-up sons, and lives in London with his wife Maureen, and lucky black cat "Percy".
Jeremy also wrote a book, "Flying Solo," which he had in limited quantities on his website. It's now a collector's item if you can find it.
(Jeremy Bulloch with his son Robbie Bulloch for "Robin of Sherwood" in 1984.)
Notable Posts
An official obituary statement was posted on Jeremy Bulloch's Facebook page:
"Jeremy died peacefully on 17th December 2020 following health complications, including several years living with Parkinson's disease. He spent his final weeks in the wonderful care of staff at St George's Hospital in Tooting, close to the house where he and his wife Maureen had lived together for more than fifty years. Maureen and two of his sons, Jamie and Robbie, were with him during his final days. Jeremy had a long and happy life as an actor and was best known for his roles in the films Summer Holiday, Star Wars and James Bond; TV series the Newcomers, Doctor Who, Agony and Robin of Sherwood, and several West End theatre productions. Away from the screen Jeremy was a talented footballer and cricketer. He also supported a number of charities including Great Ormond Street Hospital who saved his granddaughter's life. He was devoted to his wife, three sons and ten grandchildren, who all love him dearly and will miss him terribly."
Daniel Logan, who played Young Boba Fett in the 2002 Attack of the Clones film and voiced him in the animated The Clone Wars cartoon, shared a statement on Instagram:
"IT BRINGS ME TO TEARS TO ANNOUNCE JEREMY BULLOCH HAS PAST AWAY.!! RIP LEGEND ILL NEVER FORGET ALL YOU'VE TAUGHT ME.!! I'LL LOVE YOU FOREVER.!! CONVENTIONS WONT BE THE SAME WITHOUT YOU MAY THE FORCE BE WITH YOU ALWAYS."
John Morton, who played Boba Fett for the hallway scene on Bespin, shared a statement on Facebook:
"I believe this image is from Celebration Europe 2 at Essen, the time that LFL hosted the "Four Fetts" on stage with Warwick Davis. We were joined by Tem who led us all in a haka to the delight of some 7,000 fans. The only time we five were ever all together. In the photo also is Matt Booker who was part of the "Jedi News" team that convoyed from the UK with Jeremy and his wife Maureen. Jeremy was indeed a true gent who along with Kenny, Dave and Peter in the 90s brought Star Wars to fans and cons all around the world, making for one of humankind's most endearing and inspirational extended families ever. Jeremy, you are ever the epitome of "The Way." God speed."
John also wrote a longer read, which we exclusively have here.
Mark Austin, who played Boba Fett in the first 1997 Star Wars: Special Edition, shared a statement on Facebook:
"It comes with a heavy heart to have to say goodbye to the Fett father Jeremy Bulloch. Such a loss. My hero since 1980. A true gentleman and the man responsible for our comicons. He set the bar. All of us Fetts held him as THE "Boba Fett". I am so glad to have known him but this also brings my sadness to new heights. Rest in peace my friend. The world is emptier with your absence."
Don Bies, who played Boba Fett in the 1997 Return of the Jedi: Special Edition for the dancer scene, shared a statement on Facebook along with a well-known photo by Art Andrews:
We've lost so much this year…2020 is continuing to take from us.
Jeremy Bulloch was a wonderful man, husband and father–and a fine actor to boot. I feel so honored to have met him and got to know him…and step into his character's shoes (and helmet!).

We were at a convention in Germany in 2001 where we had a wonderful time. He was so very patient with my then four year old son, reasoning gently with him and teaching me valuable father lessons.

Such a sweet soul. I will miss him.
Lucasfilm shared a statement on Facebook and on Twitter:
"Jeremy Bulloch, whose unforgettable performance as notorious bounty hunter Boba Fett has captivated audiences since he first appeared in 1980's Star Wars: The Empire Strikes Back, has sadly passed away. He will be remembered not only for his iconic portrayal of the legendary character, but also for his warmth and generous spirit which have become an enduring part of his rich legacy."
Mark Hamill who played Luke Skywalker shared a statement on Twitter:
"Jeremy Bulloch was the quintessential English gentleman. A fine actor, delightful company & so kind to everyone lucky enough to meet or work with him. I will deeply miss him & am so grateful to have known him."
Your Memories
Do you have a favorite Jeremy memory? Please let us know in the comments or on social media (see our posts on Facebook, Instagram, and Twitter).