Dear Friends,
It is with a heavy heart that I have decided to stop attending conventions and hang up the Fett helmet. It has not been an easy decision to make. In 1979 I was called onto the set of Empire Strikes Back to play Boba Fett, and since that day it has changed the entire direction of my life in such a wonderful way. It has been a privilege to have had the opportunity to inspire so many generations of Star Wars fans. I have had over 20 years of travelling with my wife Maureen to some amazing countries and have met so many wonderful fans. Thank you all so much and we will miss you all.
'May the Force be with you always'
Jeremy
Autographs
Jeremy will still be taking part in send-in signing if fans still need items signed for their collections. Please send any requests to imperialsignings@hotmail.co.uk. [UPDATE: No longer signing as of April 2020.]
Fan Reactions
See the comments thread on our Facebook post and Twitter post for an outpouring of support from those who met or wanted to meet Jeremy on tour.
You can also use our square graphic to share yourself on social media. Please use hashtag #JeremyBulloch to connect your post with others.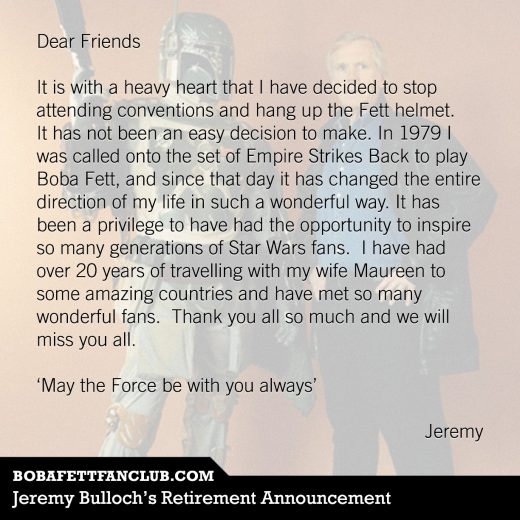 World Tour
We've followed Jeremy's official convention stops for over 20 years and have them all in a calendar here on BFFC. Take a look and, if you use your free BFFC account, you can save which ones you've attended to see Jeremy for your memory bank or to share with friends and family.
Interviews
Jeremy has done countless interviews over the years. At Star Wars Celebration Anaheim, we did a thorough video interview with him all about his memories and experiences being Boba Fett: