It is astounding to think that an entire culture was spawned out of one man's few short minutes of screen time in a couple of movies nearly 30 years ago. From Boba Fett, George Lucas invisioned Jango, patriarch of the clone army. The rest is history. Now names like Canderous Ordo, Cassus Fett, Spar (Alpha-Ø2), Jaster Mereel, Fenn Shysa, Jango Fett, and Goran Beviin are nearly synonymous with the legendary Boba Fett himself. There are books, comics, a new language (Mando'a), and a fan base with amazing creativity and loyalty to the Mandalorian way.
This year's Dragon*Con in Atlanta brought out one of the largest gatherings of Fett Fans and Mandalorians alike. Dressed in their best beskar'gam, members of the 501st Legion, The Dented Helmet, and the Mandalorians Mercs Costume Club took the the streets for the 2008 Dragon*Con Parade. The festivities lasted over the long Labor Day weekend. The Mercs even caught the eye of Mr. Boba Fett, Jeremy Bullock himself. After seeing the group, he was quoted in saying:
"I am simply amazed by the popularity of Boba Fett nowadays, as the original part was not very big."
As far as these fans are concerned, simplicity often leads to great things. Oya!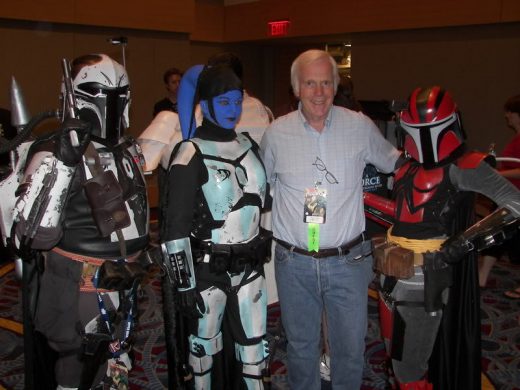 Jeremy Bulloch and his creations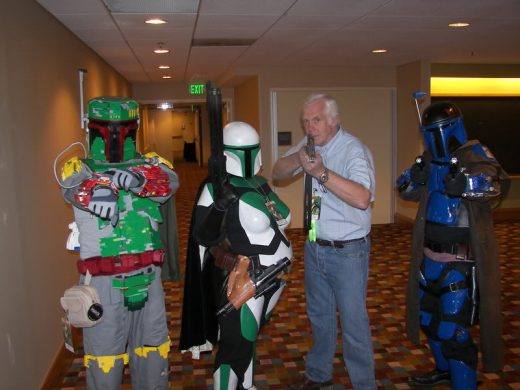 Lego Fett and Jeremy getting into character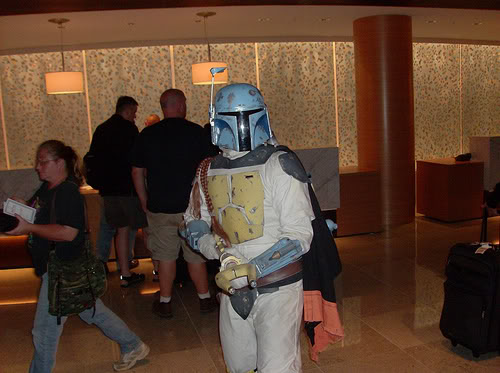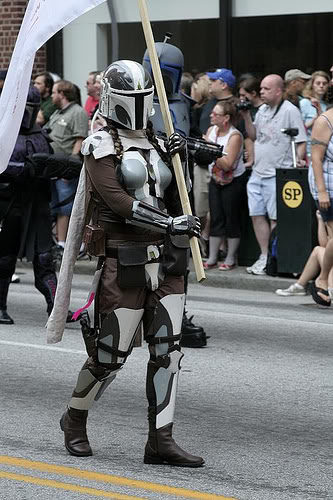 Mandalorian Merc flag-bearer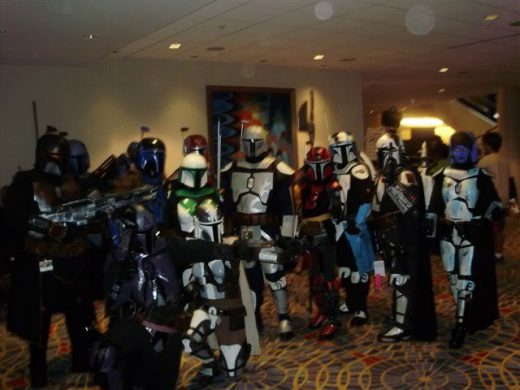 The Mandalorian Mercs costume club, Dragon*Con '08
(Pictures courtesy of Mandalorian Mercs Forum.)