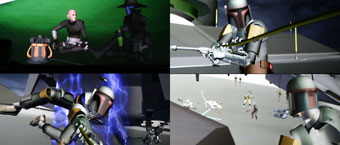 At the "Untold Clone Wars with Dave Filoni and Pablo Hidalgo" panel, we at the Boba Fett Fan Club expected Boba Fett to be mentioned regarding the final "bounty hunter arc" storyline. We were correct.
Along with a lot of "mentions" of Fett, two video clips were shared with the crowd of several thousand fans — many of whom also filmed the panel. (It's unclear to us what the exact policy is for this, so we as a media pass holder believe it's Fair Use and also posted our e-mail address in the embed should there be a take-down request.)
Filoni described one episode in the "bounty hunter arc" as referencing John Ford's 1956 film, "The Searchers," highlighting a mentor dynamic between Bane and Fett. We all were shown a clip featuring Boba Fett and Cad Bane. The preliminary animation had its final voice-over, but was not yet fully animated.
Since "The Clone Wars" is done for good, and "Rebels" is the new show for the team, Filoni and Pablo Hidalgo wondered if maybe the story would be fleshed out in a comic, especially after all of the Jango/Boba comics.
The panel went on to include a Q&A where one fan asked if Cad Bane and Boba Fett will in fact be in Star Wars Rebels. Filoni chose to only address Bane. "At present Cad Bane is not." He went on to explain that, if it's related to the story, it's more of a shot. It seemed tell-tale that Filoni wasn't mentioning Fett.
However, Filoni went on to describe in general that Boba Fett is akin to the classic Clint Eastwood western archetype. With Cad Bane, there's some camaraderie but the two are also enemies. Filoni suggested that Bane is teaching Boba in order to learn who was better: his father Jango or him. "If Bane can teach Boba to be great like his dad, then Bane can know who's better," Filoni concluded.
The duo also opted to show a surprise clip, which here shows Boba Fett in full armor — a first for the show.
The clip also includes Bossk, Embo, Latts Razzi, and Count Dooku.
Video by Boba Fett Fan Club.
Looking for more about Star Wars Celebration Anaheim? See our guide for Boba Fett fans.