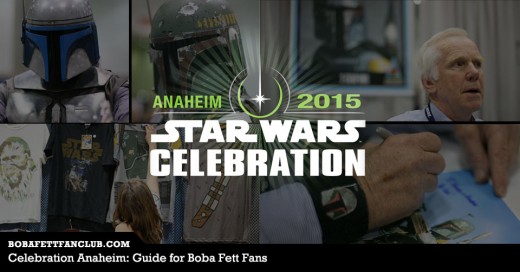 We'll be covering all four days of Celebration Anaheim, live from the convention with video, photo, audio, and text posts day and night.
Besides four Boba Fett actors — including the original, Jeremy Bulloch — and three of us from the Boba Fett Fan Club attending, here's our preliminary guide on where to go when!
After "All Days," events are organized by day and then by start time. Overlaps identified where appropriate. Lost? Here's the official event map.
ALL DAYS
Talent at the Celebration Autograph Hall by Official Pix @ Celebration Experience Exhibit (Hall C)
Jeremy Bulloch – The Original
Daniel Logan – Young Boba Fett
John Morton – "Bespin" Boba
Dickey Beer – "Jedi" Stuntman Boba
Other guests (who are autographing): Lorne Peterson
Other guests (who are not likely to be signing autographs): Doug Chiang and John Knoll
Exhibitors (in alphabetical order)
Acme Archives Ltd. @ Booth 1724
(They often sell Boba Fett artwork.)
Alex Ross Art @ Booth 1116
(Alex recently did a Darth Vader #1 cover that featured Boba Fett, which should be on sale at this booth.)
Bandai Namco @ Booth 1334
(They may have their new Boba Fett figure on display.)
Brian's Toys @ Booth 402
(The shop often sells the most rarest Boba Fett collectibles.)
DK Publishing @ Booth 1110
(DK recently announced a new book with a special LEGO Boba Fett mini-fig.)
Funko @ Booth 1410
(This toy manufacturer has released several Boba Fett items in recent years and will have the new Super Shogun 24″ Boba Fett on display.)
Her Universe @ Booth 934
(They sell several Fett-inspired apparel items.)
Jason Palmer @ Booth 305
(Jason has a "Return of the Jedi" print that includes Boba Fett.)
Joe Corroney (aka The Art of Joe Corroney and Brian Miller) @ Booth 1111
(Joe often illustrates Boba Fett.)
Mandalorian Mercs @ Booth 1294
(Come support our fellow fan group.)
Matt Busch (aka Matt Busch and Lin Zy Art) @ Booth 1276
(Matt often illustrates Boba Fett and has a special print this year that's inspired from Fett's "Holiday Special" cartoon, "Encounter on Panna Prime.")
Ralph McQuarrie (aka The Art of Ralph McQuarrie) @ Booth 524
(McQuarrie was one of the original designers of Boba Fett and some of his legacy artwork may be available here.)
Randy Martinez @ Booth 1512
(Randy often illustrates Boba Fett, who appears on the edge of a Celebration exclusive print called "Darth Vader: Beyond Borders.")
Star Wars Weekends @ Booth 1356
(Two Boba Fett actors are attending the annual event this year.)
Tsuneo Sanda (aka Art of Tsuneo Sanda) @ Booth 533
(Sanda has done several Boba Fett paintings.)
Underground Toys @ Booth 1034
(Beeline Creative has a Boba Fett ceramic stein on display for sale here.)
Artists at the Star Wars Art Show at ACME Archives @ Celebration Experience Exhibit (Hall A) (Exhibitor Space #1724)
Brian Rood
Doug Cowan
Grant Gould
Shea Standefer
(Shea has a Boba Fett vs. Luke Skywalker print, "Tatooine Showdown".)
Katie Cook
(Katie has a "Return of the Jedi" collage print that includes Boba Fett.)
Other
The StarTots Boba Fett pin will be a random giveaway (1 in 20 odds) for all attendees of the collecting panels which go on across all four days. They're organized by folks like Steve Sansweet, Rancho Obi-Wan, YakFace.com, and others.
THURSDAY, APRIL 16
11:30 AM – 12:30 PM
Star Wars Collectibles Update with Lucasfilm's Anita Castellar @ Behind the Scenes Stage – Level 2
Tamashii Nations — a Star Wars licensee — tweeted a mysterious reference that could suggest a Boba Fett figure of theirs being revealed here
12:00 – 1:00 PM
Intro to the Mandalorian Mercs @ Star Wars University – Level 2 (206AB)
(The Mercs have been a welcoming, supportive group for cosplayers who make both Fett costumes and their related Mandalorians.)
1:00 PM – 2:00 PM
Star Wars Costumes @ Behind-The-Scenes Stage – Level 2
(The new book "Star Wars Costumes: The Original Trilogy" includes many rare, hard-to-find photos of Boba Fett.)
AT THE SAME TIME: Mandalorian Mercs' All Costume Group Photo @ Front Fountain
(Should be quite a nice sight to see Fett, Fett-inspired, and Mandalorian cosplayers.)
3:30 PM – 4:30 PM
The Untold Clone Wars with Dave Filoni and Pablo Hidalgo @ Digital Stage – Level 3
(The "Bounty Hunter Arc" was meant to conclude in the "untold" Clone Wars episodes before the show was abruptly ended. Maybe Fett will get mentioned.)
6:00 PM – 7:00 PM
Plastic Galaxy @ Collectors Stage – Level 2 (210AB)
(Boba Fett has a massive collectible market. Maybe Fett will get mentioned.)
FRIDAY, APRIL 17
10:30 AM – 11:30 AM
Battlefront @ Digital Stage (Level 3)
(Boba and Jango Fett appeared in the last video game, so why not appear in the next one? We're crossing our fingers.)
11:30 AM – 12:30 PM
Ralph McQuarrie: Star Wars Art @ Behind-The-Scenes Stage – Level 2
(McQuarrie was an original concept artist/designer for Boba Fett.)
3:30 PM – 4:30 PM
One Big Story: Working Within the Star Wars Canon @ Star Wars Fan Stage – Level 3 (303ABCD)
(Since Disney bought Lucasfilm, and the Story Group was founded to re-define the Expanded Universe, Boba Fett's life/death is up in the air. Maybe Fett will be mentioned.)
4:30 – 5:30 PM
Behind the Scenes: LEGO Star Wars Droid Tales @ Digital Stage (Level 3)
(While it focuses on C-3PO and R2-D2, the timeline is right to have Boba Fett make an appearance.)
6:30 – 7:30 PM
Star Wars Insider @ Star Wars Fan Stage – Level 3 (303ABCD)
(The official Star Wars magazine frequently includes Fett. Maybe he'll get mentioned.)
SATURDAY, APRIL 18
11:00 AM – 12:00 PM
New Allies and New Villains in Star Wars Rebels Season 2 @ Celebration Stage
(While Fett may not be in the second season of "Rebels," the storyline and the timeline both would make it "make sense" to include him. Maybe Fett will be mentioned here.)
12:00 – 1:00 PM
Great Stories of Star Wars Collecting @ Collectors Stage – Level 2 (210AB)
(Boba Fett has a massive collectible market. Maybe Fett will get mentioned.)
12:30 PM – 1:30 PM
PRESS ONLY: "Star Wars Rebels" Press Conference
(While Fett may not be in the second season of "Rebels," the storyline and the timeline both would make it "make sense" to include him. Maybe Fett will be mentioned here.)
1:00 PM – 2:30 PM
Smuggler's Bounty – Original Star Wars Audio Drama by Kyle Newman @ Celebration Stage – Level 1 Hall A
(Boba Fett was included in the original "Smuggler's Gambit," but this sequel may or may not include Fett again. Daniel Logan is not named on the cast list like he was for "Gambit.")
AT THE SAME TIME: Star Wars Comes Home to Marvel @ Behind-The-Scenes Stage – Level 2
1:30 – 2:30 PM
Star Wars Proof Cards and Cromalins @ Collectors Stage – Level 2 (210AB)
AT THE SAME TIME: Bad Guys Who Do Good @ Star Wars Fan Stage – Level 3 (303ABCD)
3:00 PM – 4:00 PM
Star Wars Original Props and Costumes @ Collectors Stage – Level 2 (210AB)
(This new book includes many rare, hard-to-find photos of Boba Fett.)
4:30 – 5:30 PM
Star Wars Steampunk Universe @ Star Wars Fan Stage – Level 3 (303ABCD)
("Steampunk Fett" have been a successful, friendly cosplayer, who's on the panel.)
5:00 PM – 7:00 PM
Global Premiere: Star Wars Rebels Season Two @ Digital Stage – Level 3
6:00 PM – 7:00 PM: AT THE SAME TIME: Star Wars Fan Film Awards presented by StarWars.com @ Behind-The-Scenes Stage – Level 2
(Two fan films nominated for awards include Boba Fett.)
7:30 PM – 11:59 PM
The Empire Strikes Back and Return of the Jedi in 2D @ Digital Stage – Level 3
(Boba Fett stars in both films.)
SUNDAY, APRIL 19
11:00 AM – 12:00 PM
Conversations with Gareth Edwards and Josh Trank @ Celebration Stage – Level 1 (Hall A)
3:30 PM – 4:30 PM
Star Wars Celebration Closing Ceremony @ Celebration Stage – Level 1 (Hall A)