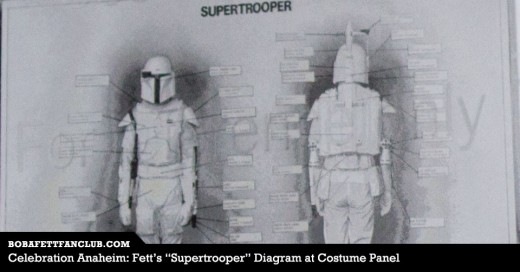 The "Star Wars Costumes" panel, hosted by Brandon Alinger, just wrapped and Boba Fett made a few appearances.
When showing artwork by Ralph McQuarrie and John Mollo, Brandon mentioned how the Hoth snow trooper was an original look for #BobaFett. He's referencing a sketch of a concept Fett wearing a big coat.
One was a nice large shot of this "Supertrooper" diagram, pictured above, which previously has only been shown very small in print and online (including on our own site). We got this photo of it, but the projector resolution prevented us from seeing how each part of the costume was labeled.
During the Q&A, one audience member asked why did Boba Fett's costume change colors between movies? The host mentioned how Joe Johnston was involved in the book's research process and, while Joe originally painted the gauntlets red and yellow, he doesn't know exactly why it changed. Anyone know?
When asked about his favorite moment exploring the Lucasfilm Archives, Brandon mentioned how Boba Fett's white prototype costume had its belt included in a belt box. Nice surprise!
Photo by Boba Fett Fan Club.
Looking for more about Star Wars Celebration Anaheim? See our guide for Boba Fett fans.