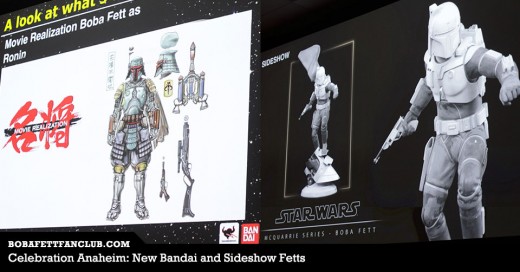 Moments ago was Day 1's Star Wars Collectibles Update with Lucasfilm's Anita Castellar @ Behind the Scenes Stage. Two big Boba Fett announcements!
1. Bandai's high-end line has a new series of Ronin influenced Star Wars figures, including a Boba Fett. This is an exclusive announcement and photo from Celebration.
2. Sideshow announced a new McQuarrie concept Boba Fett work-in-progress photo.
Photos (above) by Boba Fett Fan Club.
Looking for more about Star Wars Celebration Anaheim? See our guide for Boba Fett fans.
UPDATE Pop-Critica.com got a hold of Bandai's presentation file, which allows for a more straight-on view of the slide: