I know what you are thinking. It was bad enough to watch the most infamous bounty hunter in the galaxy get punked out by a smuggler's blind (literally) luck. Now there is this: "Hello Wars" is the new line of Star Wars themed stickers from the company that brought us "Hello Kitty". For sale so far is "r2k2" (R2-D2), "hans kitty" (Han Solo), "chewkitty" (Chewbacca), "storm kitty" (Stormtrooper), and more. Most notably to us, of course, is "boba kitty". The unforgettable image of Boba Fett's Mandalorian helmet adorned with whiskers, kitty ears, and a big red bow.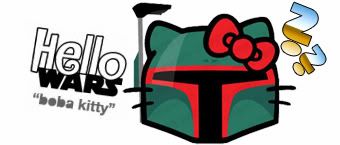 Boba isn't alone, however, as his old man Jango is scheduled for release some time before Christmas 2009 along with other prequel stickers, including Qui-Gon Jinn, Darth Sidious, Queen Amidala, and others. You can purchase the stickers via the "Hello Wars" website's store here where you can also get a look at upcoming stickers of Darth Vader, Obi-Wan Kenobi, and Lando Calrissian.
According to wired.com, more cross-marketing will also be seen from Adidas footwear, but further information on that has yet to be seen. Let's leave out the big red bows, shall we Adidas?