Upcoming Bounty is a series of editorial posts about newly released and/or newly announced Boba Fett collectibles, giving you the lowdown along with a pro collector opinion on what's what.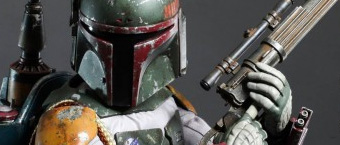 Hot Toys has announced their first ¼ scale Star Wars figure will be none other than Boba Fett. Hot Toys is one of the few companies where most collectors I know actually feel they're getting their money's worth despite the high price tags of their pieces. Scheduled for a 3rd or 4th quarter 2015 release this Fett is done in his ROTJ scheme with a Jabba's Skiff themed base. It includes 30 points of articulation and 7 alternate hand molds. All shin tools appear to be removable. He also comes with both a full version of the Blastech EE-3, as well as a battle damaged version as seen after Luke chops off the barrel with his lightsaber. Select markets may also get a bonus blaster pistol with holster. Price tag is $469.00 through Sideshow Collectibles, which includes the exclusive blaster pistol and holster.
Pros:
Hot Toys brand product
Quarter scale
Tons of articulation to pose
Battle damage options
Additional blaster pistol/holster in select markets
Cons:
$469.00 price tag
Bad product scheduling
My take:
It looks like I'm going to have to suck this one up. Personally I prefer the ESB paint scheme on my Fetts, but I'm going to take a chance because it's Hot Toys. The timing sucks for my wallet as Sideshow's new ¼ scale ESB Fett is also scheduled for 4th quarter 2015 release. Looking at the prototype photos the detailing on the armor and flightsuit looks like it will blow away the older Sideshow ¼ ROTJ Fett, which if I recall correctly sold for $300.00. The new Sideshow premium format is $439.99. The fact that the battle damaged blaster is included leads to me to hope that a companion Luke and possibly a larger skiff display may be coming later. Nothing confirmed there though.