Admittedly, Spencer's isn't the first retailer that comes to mind when I think of Star Wars apparel and merchandise. As a huge Boba Fett fan, that really needs to change.
Over the years Spencer's has continually had Fett and Mandalorian offerings in baseball caps, t-shirts, wallets, and accessories.
Their brand-new Star Wars Collection, which officially came out August 28th, continues that trend and draws inspiration from the Japanese version of the original theatrical Star Wars movie posters, featuring Japanese characters with pop art style graphics. The t-shirts themselves are reminiscent of vintage clothing with this same graphical style.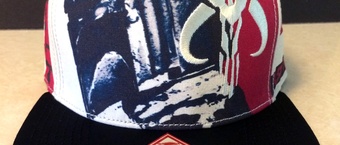 I got a first hand look at their new Boba Fett baseball cap. Manufactured by Bioworld, the hat's base color is a light cream and features a two-tone Boba Fett profile from the left side, facing left, on the front center and right panel (from the wearer's perspective). Boba Fett himself is rendered mostly in black with some dark blue accents. The front left panel is red behind the back of Fett's helmet and a fully embroidered Mythosaur skull in white. The wearer's right panel has a vertical red stripe with black Japanese lettering that according to my iPhone's iTranslate app very closely resembles "Star Wars." The wearer's left panel has a red one-tone Mandalorian insignia above a black horizontal stripe with the same Japanese lettering in black. The two rear panels do not feature a design, and both the top and the bottom of the bill are black which comes perfectly flat if that's your preferred style. The rear snap closure includes a small Star Wars tag, and the inside of the hat includes the Star Wars logo again with "TM and CO LucasFilm LTD." The hat retails for $25.
Visually the hat is very striking. The usage of red draws the eye but doesn't over power the other graphics. For me, this hat is also wearable. I'm of the wear a cap all day variety and the cream color looks like it will help mitigate discoloration from sweat and other body oils. If you collect Boba Fett hats, this is a must have. If you collect Fett in general I would also highly recommend this. While I don't go out of my way for hats, this one will fit nicely into my collection and will definitely be worn. The line also features a Vader cap of a similar style for the same price.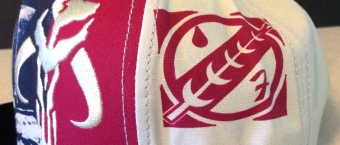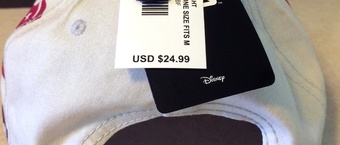 Other Boba Fett offerings in the line include a bifold wallet ($20) and a raglan style t-shirt ($30) with similar, matching graphic designs.
I also got to review a Darth Vader keychain ($8) and a lanyard ($8), both made by Bioworld. The keychain is diecast metal and features a front image of Vader's helmet — I call this the angry Vader — with a red vertical strip and black Japanese lettering that appears to translate as "Darkside." The line also features a t-shirt ($25), a chain wallet ($25), and a fleece blanket ($25) with the same Vader design.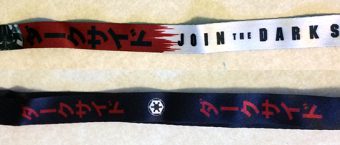 The lanyard is reversible. One side alternates between white backing with black English lettering ("Join The Darkside"), red backing with black Japanese lettering ("Darkside"), a small Vader helmet graphic, and then white backing with red Japanese graffiti styled lettering. The reverse is black with red Japanese lettering ("Darkside") alternating with the Imperial insignia. It also includes a small keychain fob with a white Vader silhouetted in front of the Death Star and a red sun — another Japanese inspiration? — and black Japanese lettering for Star Wars, and an ID pouch that includes a sticker commemorating and advertising the line.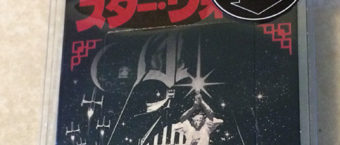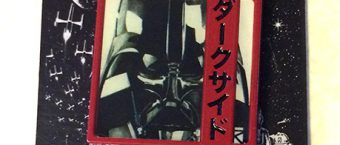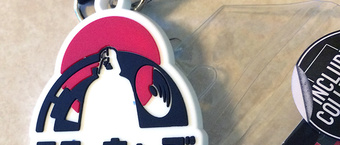 Whether deliberate or not, this line pays a nice tribute to Japanese fans who have always been a major part and sometimes influence in Star Wars fandom. Here's hoping for more Fett stuff from Spencer's in the future!
You can find the collection at Spencer's 690 locations and online at SpencersOnline.com.
Photos: Scott Casanova