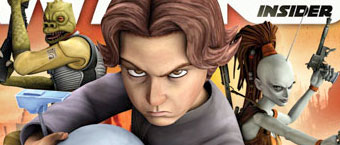 Star Wars Insider #117 is touting a table of contents with a small handful of Fett-related content:
an interview with Jeremy Bulloch
another with Daniel Logan
a Boba Fett timeline by Leland Chee, a Lucasfilm official and the person who maintains the Holocron continuity database
and an interview with Mandalore's Duchess Satine, Anna Graves
StarWars.com also published an excerpt:
How long have you known you'll be returning as Boba Fett, and how hard has it been to keep it secret?

It's been a little over a year now. I was very excited and honored to be asked to come back and play Boba Fett again. It was tough to keep it a secret -- very tough! Whenever people would ask what I was doing and if I had any upcoming projects, I wanted to say "I'll be back as Boba soon! Watch Star Wars: The Clone Wars!"

How has Boba changed since we saw him in Attack of the Clones?

Boba is older, more experienced and driven by the death of his father. In Attack of the Clones, Boba was still a little boy learning from his dad. His father was his whole world. Now he is alone and on a mission.

Was it a challenge to play the character younger than you actually are today? Did you watch Attack of the Clones again to prepare, and what facets of his character did you use?

I watched Attack of the Clones a few times, specifically to pay attention to the voice. Boba is around 12 years old in The Clone Wars, so while I wanted to stay true to the original tone of his voice in the movie, I knew it needed to be a bit lower and more serious.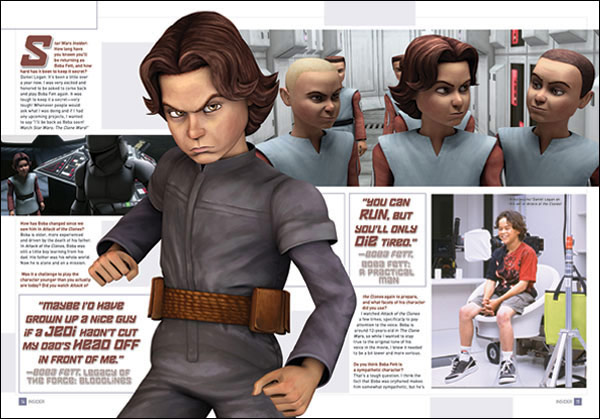 Unrelated, Sky Movies recently published an interview with Daniel Logan about his role as Young Boba Fett in the animated series, which premieres in just two days.
Boba Fett is no stranger to making the cover of Star Wars Insider. See our database of all magazines featuring the bounty hunter.