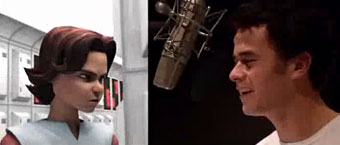 Tonight, you can not only expect to see an animated Young Boba Fett on television, but also chat with him through his Twitter at 9:30 PST/EST today, Friday, April 23rd.
The episode, "Death Trap," has a synopsis of "a young boy wages war against the Jedi Knights who left him orphaned, bitter and alone." One line to expect is "who my father was matters less than my memory of him." The episode's director is Steward Lee, with writers Doug Petrie, Drew Z. Greenberg, and Brian Larsen attached.
For more of a substantive conversation, Bryan at BigShinyRobot.com conducted an exclusive interview:
[audio:http://www.bigshinyrobot.com/podcast/interviews/daniel-logan.mp3]
Also, ComicVine.com interviewed Logan back at Wondercon 2010 when the news was first announced.