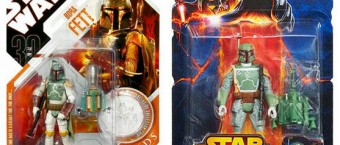 The latest Boba Fett in Hasbro's Saga Legends series is their third release, which sports very different packaging along with minor variations:
"The Empire Strikes Back" colors (e.g. jetpack and gauntlet color differences)
5 points of articulation
The 2013 release is about to be available on HasbroToyShop.com, and has already been available in some stores around the world.
This follows a 2011 release, and then the 2007 initial release, which had "Return of the Jedi" colors and 14 points of articulation.