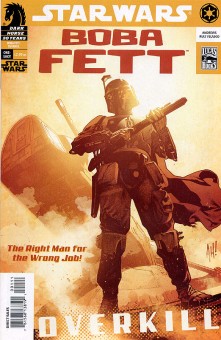 DarkHorse.com has always been a great resource for Boba Fett over the years, making clear their dedication to Boba Fett as the "comic book icon," remaining mysterious throughout even their teaser press releases and preview comic pages. Jeremy Barlow, Associate Editor, discusses Star Wars comics in 2006 and Boba Fett is back.
And second, a yet to be titled Boba Fett one-shot written by Thomas Andrews (Star Wars: Empire) - a stand alone story that finds Fett deserted on a remote planet and forced to help a group of settlers defend themselves against a greater threat. Of course, when Boba Fett's involved, situations are seldom what they seem.
(via DarkHorse.com)
Note that Boba Fett has been in numerous comics over the years, which are catalogued here at BFFC.
[Update: It was later revealed this comic is called Boba Fett: Overkill, pictured above.]