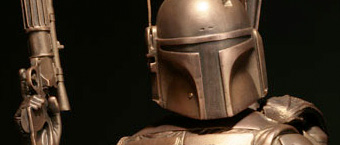 Sideshow Collectibles, which has brought us some notable Boba Fett statues, has a new pre-order going for it's bronze Boba Fett. Limited to 75, it's currently going for $5,000. The pre-order began at $4,250 but, after a few more sales, it'll soon be $6,000 and then sold out.
Bronze'd Boba isn't exactly new. In 1997, there was a bronze Boba Fett statue designed by Randy Bowen. The collectible went for $3,000.
Sideshow is also doing a bronze Jango Fett.
Got a favorite Sideshow Boba Fett statue? We'd vote for the Premium Format Boba Fett.
(Thanks to Sadriel_Fett for the original report.)