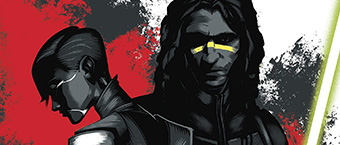 "Dark Disciple," a new novel coming July 7th by Christie Golden, has a Boba Fett cameo. He shows up beginning in the later part of Chapter 22.
The book is "based on unproduced episodes of Star Wars: The Clone Wars." As we saw first-hand at Star Wars Celebration Anaheim, Young Boba Fett — voiced by Daniel Logan — already played a role in those un-released episodes. You can see some of the pre-viz work for those episodes on our YouTube channel, here with Cad Bane and here with Count Dooku.
Thanks to Brian at EUCantina.net, who received an advanced copy of the book from the publisher and tweeted some questions, we've learned a few broad things about the plot.
SPOILER ALERT
After Hondo has Slave I in "The Clone Wars," Boba Fett has Slave I again in "Dark Desciple."
This suggests a storyline gap where perhaps Cad Bane trains Boba Fett.
Because of the timeline for "Star Wars Rebels," this "reunion" of Boba Fett with his ship could be a plot for a still-rumored (but much-desired) Boba Fett appearance in the upcoming season of the new cartoon.
Thoughts?