Being Boba Fett
Exclusive Photo Galleries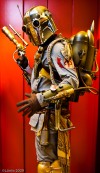 Check out over a hundred pictures of fan costumes, including some taken exclusively by BFFC. Also, upload your own!
Exclusive Video Interviews with Boba Fett Cosplayers
JC Fett
at Star Wars Celebration Anaheim
Tips
JC Fett suggests for "Empire" Boba Fett:

Present yourself as a bounty hunter. Slow. Calculated. Quiet. Stoic. You are legendary! To fulfill the impression of Boba Fett is to actually play the role. Once you put your armor on from the very first moment you should already be able to feel "the power of the force" feeling of what it is like to be an armored mercenary, the very best in the galaxy, the most feared and infamous bounty hunter to ever be known! This feeling never goes away. No matter how many times you armor-up. I get it every time. So yeah, it's fun to let loose and act like a fool with your friends, but out in public or at conventions you shouldn't be Jimmy Joe in his Boba Fett armor. You should BE Boba Fett the galaxy's most feared bounty hunter. So act like you know! Move slow. Calculated. Be stoic. That's what people want to see, the legendary Boba Fett. Don't ruin that illusion for people. When people crack jokes or ask you a question, just slowly shake your head in disapproval. Boba Fett is a man of few words, but when he does speak everyone listens, so choose your words wisely. You'll get a much better reaction that way. You've traveled such a long path building to become the worlds greatest mandalorian... don't ruin the illusion! Kids can be the exception, sometimes they are scared. Give them a thumbs up or a high 5. Usually either hey are very happy or scared to see you, so just act accordingly. Grownups want the bad ass, so make sure you give them that. And if you are an absolute true Boba Fett try not to reveal yourself to the crowd! Be true to the mystery that is the man behind the bucket. "This is my face!" should be your response when people ask to see you. The illusion of the impression of being Boba Fett is far more greater than the idea of you being a person who owns a Boba Fett. It may be your greatest reward yet! There are no words express what it's like. To experience the reactions of joy and excitement of fans of all ages will surely raise the level of enjoyment you get out of your Star Wars fandom! The Star Wars universe has so much to give back to you for all your hard work, love, and dedication to it, so make sure to enjoy and have fun! Troop on brothers and sisters!
Flynn O'Connor suggests:

Don't be afraid to show it off! I have worked movie openings (the Special Editions) in trade for various things. I have worked various Collector shows. If you've ever been to Auston's Palmer auditorium during the Annual Sci/Fi Toy and comic shows, you've seen me. I met Jeremy Bulloch there, along with the rest of the "Men Behind The Masks." Wear it to halloween parties, costume contests, etc. I wore it on Austin's 6th street (if you don't know, don't worry about it...) and was cheered on by hundreds of people. Every few steps was I heard a yell of "It's BOBA FETT!!!"
Most importantly, remember, it's all about characterization! Watch Boba Fett, how he carries himself. He moves like someone you don't want to mess with. He's confident, yet somewhat pantheric, almost serpentine. His strides are long and slow, his steps sharp and precise. His head movements are slow but calculated. I spoke to Jeremy Bulloch at length on acting and it is hard to characterize through all that armor, but it can be done. That what makes the character so good. Think the cockiness of Han Solo, but darker. Think the confidence of Lando, but slower. Think Shakespeare's MacDuff in MacBeth, but more calculated. Why MacDuff? Why, Bulloch has played the part more than once and enjoys Shakespeare. (OK, and so have I.) But if you have a great outfit and wear it like a clown suit, it's just not going to work!
Explore Other Boba Fett Costume Guide Sections
Blueprints
Colors for All Boba Fett Variants
Paint and Painting
Chest, Shoulder and Back Armor
Jumpsuit
Flak Vest
Cape
Blaster Rifle and Sidearm
Gauntlets
Gloves
Wookiee Scalps
Pants
Ammo Belt, Girth Belt, Hip Pouches, and Sidearm Holster
Knee Armor and Darts
Codpiece and Kidney Armor
Tools
Boots
Questions, comments, concerns, or ideas?