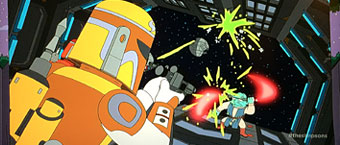 Tonight's episode features Homer building a movie theater in his back yard and showing pirated copies of current movies to his neighbors. One movie is "Cosmic Wars Episode VII" which was he claims was leaked by a disgruntled effects artist. Right after the scroll Sideshow Mel stands up and exclaims "My childhood has been unruined!!!" Mandalorians, or characters who look very much like Boba Fett, make an appearance.
"Steal This Episode" (Season 25, Episode 539) is written by J. Stewart Burns and directed by Matthew Nastuk.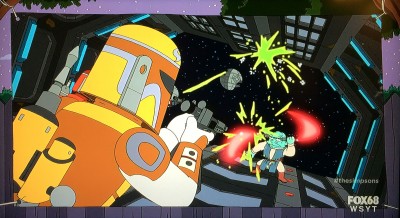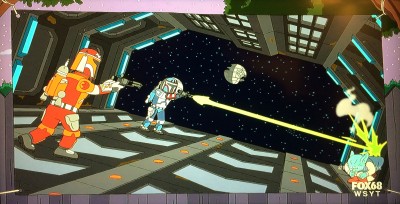 This is the third episode of The Simpsons to include a Fett reference. Check out the details on our knowledge base, Fettpedia.
(Hat tip to BFFC longtime fan, Scott Casanova, for the head's up and the screenshots!)