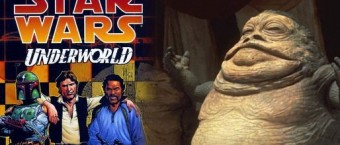 Moviehole reports the name of the live-action, Boba Fett-included show may be called Underworld, which may be referencing the comic book series by the same title. More details to come.
Producer Rick McCallum (George's right-hand man; someone responsible for the prequels) tells IGN that although they've yet to find the dough to make the show (are you frickin' kidding me, George!?) they do know what it'll be and what it'll be titled.

Firstly, the title. Apparently "Star Wars : Underworld" is the working title for the show – in other words, that's the one they're going with for the moment.

The title reflects the show's storylines, rather well. You see, it's set between "Return of the Jedi" and "The Phantom Menace" and will be about "underneath what's going on.. it's the criminals, the gangs [etc]" says the producer.

Interestingly enough, "Star Wars : Underworld" is also the title of a "Wars" comic series from Dark Horse. I'm not sure that the show has anything to do with it, but considering those comics also fixes on the criminals, gangs, bounty-hunter's etc of the Galaxy, there's a fair chance they are one and the same.