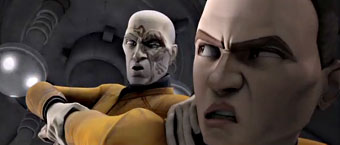 This Friday, January 20, Daniel Logan's portrayal of Boba Fett is back on The Cartoon Network series, "Clone Wars." Here is a trailer for episode 15 of season 4, "Deception:"
[Video no longer available.]
There's more about the episode on starwars.com.
For more info and pictures on this episode and others in the series, visit our Clone Wars Fettipedia page, our Clone Wars image gallery, and our Daniel Logan Fettipedia page.
UPDATED 1/20 In an interview with TV Guide Magazine, they ask supervising director Dave Filoni for the lowdown:
This is a great espionage story that has Obi-Wan planting himself in this group of bad guys in the Republic prison to find out what the Separatists are up to. He knows a major plot is about to go down involving the kidnapping of Emperor Palpatine but he doesn't know where and when. To get the information he needs, he pretends to be the bounty hunter villain Rako Hardeen, the marksman from Concord Dawn. The really hardcore Star Wars fans will notice that his disguise uses the helmet Ralph McQuarrie originally designed for Boba Fett. It's totally cool. This arc is unlike anything we've done before -- very, very noir -- and it will take us toward the ever-spiraling conclusion of the season.
Thoughts on this new Boba Fett?