George Lucas founded visual effects powerhouse Industrial Light & Magic (ILM) as a necessity in May 1975. 20th Century Fox's in-house special effects studio had been shuttered, and Lucas needed some movie magic to pull off his film "The Star Wars," which would eventually become "A New Hope." The scrappy, skilled team Lucas and Special Effects Supervisor John Dykstra brought together in the process changed entertainment history.
A six-part documentary called "Light and Magic," which premieres July 27 on Disney+, features behind-the-scenes footage and interviews that chronicle how that early team captured "lightning in a bottle" as special effects legend and early ILM staffer Phil Tippett described it at a Star Wars Celebration panel May 27.
Lawrence Kasdan, who co-wrote "The Empire Strikes Back," "Return of the Jedi," "The Force Awakens" and "Solo," directed the docuseries and appeared at the panel virtually after testing positive for COVID-19. Tippett, "Light and Magic" producer Ron Howard, industry visual effects veterans Joe Johnston, Dennis Muren and Rose Duignan, and Lucasfilm Executive Vice President and General Manager Lynwen Brennan, appeared on the Celebration Stage in Anaheim.
While Kasdan worked closely with many people at ILM over the years, he set out to create this documentary because he "never in 40 years really understood how it happened."
"What I did know was that ILM is a house of geniuses. And somehow George Lucas had the vision to bring these people together," Kasdan added.
Kasdan described early ILM as a "wild place" full of people from disparate disciplines who worked together to make Lucas' vision for Star Wars a reality.
Joe Johnston, co-creator of the Boba Fett design, was working as an industrial designer to create items like water softeners and bus seats when he saw an ILM flier at Cal State Long Beach. They were seeking artists, model builders and painters to work on a space movie.
"And when I found out what this job was, it was like, wow, now I can design stuff that doesn't have to work. It just has to look great," Johnston said.
Johnston said he felt like a fish out of water at first, but came to realize that he "was just a member of this giant family, just like everyone else."
Duignan remembers joining the company as a production staffer in the last nine months of A New Hope's production. The live action filming had wrapped, but half of the special effects budget was gone, having been spent on creating the Dykstraflex motion control system, refurbishing optical equipment and building models. And none of the shots had been finished.
"We needed to get an adult in the room to say, 'Look, this is what needs to happen,'" Lucas quipped in one of the documentary scenes shown during the panel.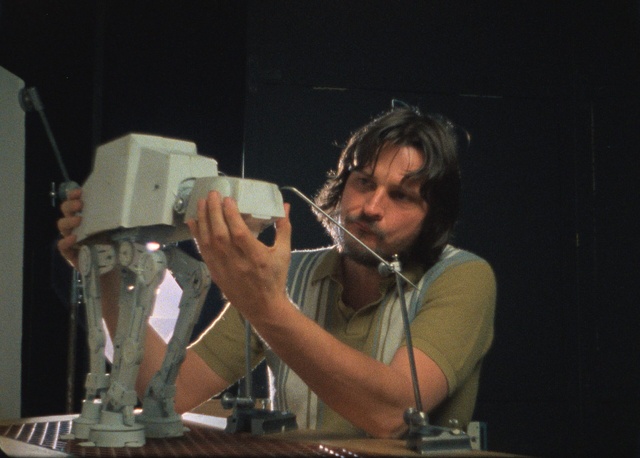 ILM's crew of creative misfits – ironically dubbed "The Country Club" after a 20th Century Fox executive visited their converted Van Nuys warehouse to find Dykstra lifting and dropping a refrigerator over and over while people in a hot tub watched – worked long days and nights together to finish the film for its May 1977 debut.
"Everybody just worked, worked, worked… And it was so much fun," Duignan said.
Muren credits the "spirit of the sixties" for bringing "outcasts" together to create ILM's character and energy during the company's early days.
"We thought we could do anything. We had deadlines, we got way behind," Muren said. "But we could come together, with all the production people like Rose [Duignan] and many of the other people here."
Johnston remembers original trilogy producer Gary Kurtz coming to him late one afternoon in a panic, asking the artist to redo the original Star Wars logo by the next morning. Johnston's iconic redesign stacked "Star" on top of "Wars."
"If I only had one penny for every time that thing has been printed, I don't think I would be here right now," Johnston said to laughter.
Brennan says that kind of collaborative problem solving and camaraderie remains a hallmark of ILM today.
"There is no hoarding of the secrets. There is, 'Well, I have this idea and we could do it this way and someone else will build on that.' And it just all comes together and there's never a sense of anything being impossible," Brennan said.
Kasdan said that the generosity that stems from Lucas and ILM's first employees is a key to the company's long success.
"They want to share those ideas. They want to succeed for George and for themselves and for their teammates. And I find that generosity very moving in this day and age, and it's been there for all these years at ILM."
Top photo courtesy of ILM, featuring panelists Rose Duignan, Dennis Muren, Phil Tippett, Joe Johnston, Ron Howard, Lynwen Brennan, and moderator Chris Connelly of ABC. Bottom two screenshots courtesy of Disney+.
UPDATE: On July 7, the poster and trailer dropped.