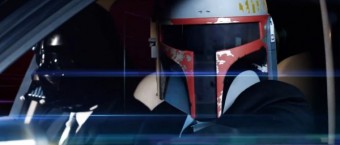 Teddie Films (Tyler Marshall and Eddie King), who previously did a Star Wars parody version of KESHA "Tik Tok," are out with "Primeday," which pokes fun at the awkward yet viral music video from Rebecca Black, "Friday."
[youtube]http://www.youtube.com/watch?v=BCmi5loEBUk[/youtube]
.
An unmasked Boba Fett flirts with "Princess Leia" at 1:44 and 1:56. A masked Boba Fett appears at 2:20 and 2:30, which begins a sequence with Darth Vader, pictured above. He's also in a sequence at 3:00, and making fun of "Pulp Fiction" in the end credits ala Samuel L. Jackson and Bruce Willis.
Here are the rap verses:
P-L, Princess Leia
Han' in the front seat (In the front seat)
In the back seat (In the back seat)
I'm Hyper drivin' (Yeah, yeah)
Dark Side, switchin' sides
Wit' a Tie-fighter on my side (Woo!)
(C'mon) Passin' by imperial cruiser
Makes Yoda, Yoda, wanna scream
Check my time, it's Primeday
We gonna have fun, c'mon, c'mon, y'all
Boba Jules is played by Ryan Richardson. Boba Sans Helmet and Boba Jack is played by Ryan Rowbury.
(via geeksaresexy.net)