Fanboys, a new feature-length film distributed by The Weinstein Company, is coming to movie theaters.
The story is set in 1998 and centers on a road trip by a group of friends who literally can't wait until Star Wars: Episode I - The Phantom Menace hits theaters. They head to George Lucas' Skywalker Ranch intent on sneaking a peek at a rough cut. They can't wait because one of the friends is dying of cancer and may not live to see the release of Episode I. (See our thorough news report from 4/2008 on Fanboys.)
The February 9th release is a limited release, but may open to a wider and international audience. It will start in the following cities:
Austin TX
Boston, MA
Chicago, IL
Houston, TX
Los Angeles, CA
New York, NY
Philadelphia, PA
San Francisco, CA
Seattle, WA
According to the listing on IMDb.com, Lou Taylor Pucci plays "Boba Fett #1" and Noah Segan plays "Boba Fett #2."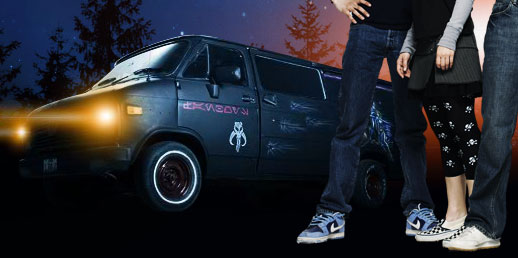 Trivia: There's a Mandalorian skull painted on the driver's side door of the fanboys' van.